Senior Nutrition: What's to Eat?
If you've ever had a hospital stay, you know how important mealtime becomes (unless you're relegated to Jell-O). With little else to do, you start to focus mostly on breakfast, lunch, and dinner. So don't be surprised if mealtime becomes all-important to your mom. Every morning, Grandma and I would have tea and toast. It became a ritual and a nice way for us to start the day. If I was running late, she'd start with, "Bread must be mighty scarce around here." That was my cue.
With today's hectic schedules and fast-food lifestyles, you might not have time for the regular sit-down meals that your parents had while they raised you. Yet, with the medications Mom is taking, it's better for her to be on a schedule. And it's always nicer if she doesn't have to eat alone. If you can't join Mom, set up a schedule of friends, neighbors, and relatives (even the grandkids) to enjoy one meal a day with her.
Geri-Fact
According to AARP, four out of five older adults have chronic illnesses that are affected by diet; one out of eight suffers depression and loss of appetite; one in four drinks too much alcohol; one out of three lives alone and doesn't feel like cooking; and most take multiple medications that require a nutritionally sound body to be effective. Many older people are in a rut, eating the same thing day after day.
Besides the time and social aspect of eating, what your parent eats is way important, as my teens would say. For years now, we've been hearing, "you are what you eat." (If so, my son's a taco and my daughter's a Biggie Fry.) And our parents ... well they're the meat, potatoes, and gravy crowd. Whatever ethnic background they come from, chances are they like things heavy--heavy on sauces, salts, and spices. America's interest in low fat and light fare has been relatively recent. So it might take some doing to get Mom interested in foods that are user-friendly to her older body.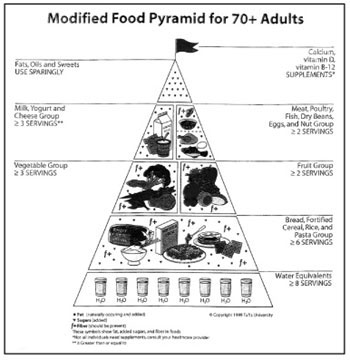 But if you're the one now preparing the meals, you have an edge. The researchers at Tuft's University Center on Nutrition played around with the USDA's Food Guide Pyramid and came up with a 70-plus pyramid. Note two major differences: The base of the pyramid is water and the top has a flag recommending supplements in calcium, and vitamins D, and B-12. What's with the floating base? Dehydration is a major problem among the elderly. While Gen-Xers run around with trendy Evian bottles in hand, their grandparents are losing their sense of thirst. Before you know it, the older set is having kidney problems, constipation, and other complications, because the medications they take further deplete the body's water supply. Your dad may also be lowering his intake because getting to the bathroom is a hassle, your mom might cut down on water because she fears incontinence. Find out what underlies you parent's lack of water intake and correct it. Always keep a fresh glass handy, or get Dad to sport a younger look with his own water bottle.
You'll also notice on the 70-plus pyramid little f-pluses everywhere. These stand for fiber, and your parent needs plenty of it. Fiber is great stuff for the digestive track. And don't forget to salute the flag on top of the pyramid by giving your parent vitamin supplements.
Here are a few other nutrition tips if you've now become your parent's chef:
Talk with your parent's physician to see if your mom needs a special diet considering her illness. Ask to talk with a registered dietician to help you design a menu.
Try serving small, frequent meals if your dad has lost his appetite. Or serve him the larger meal of the day when his appetite seems to peak.
If your dad can't see very well, use plain white plates and lay out his food on the plate as if it were a clock. For example, tell him that the rice is at 9:00 o'clock, the chicken at noon, and the green beans at 4:00 o'clock.
Make mealtime a special event with nice silverware, colorful napkins, and restaurant-like presentation of the food. When it comes to liquids, straws might make drinking easier.
If your dad has trouble using utensils, try having finger foods on hand: vegetables and fruits that you've cut up, egg rolls, tea sandwiches, and good old chicken nuggets.
If your mom suffers from dementia and keeps forgetting that she just ate, write out what she just had for lunch on a magic marker board. Have her repeat what she's eating while you write it on the board. Then put on the board what time she'll have her next meal.
If you need to have meals brought in, don't forget to call your local area agency on aging to find out how to contact the closest Meals on Wheels program near you.

Excerpted from The Complete Idiot's Guide to Caring for Aging Parents © 2001 by Linda Colvin Rhodes, Ed.D. All rights reserved including the right of reproduction in whole or in part in any form. Used by arrangement with Alpha Books, a member of Penguin Group (USA) Inc.
To order this book visit the Idiot's Guide web site or call 1-800-253-6476.