Vaccinations and Autism: Is There a Connection?
To Learn More about Vaccines
Obviously, there is an urgent need for more research into vaccinations and a possible connection with ASDs, and any decisions regarding vaccination should be discussed with your family physician.
Meanwhile, parents need to educate themselves by going to the different sources and reading for themselves. As always, keep in mind each organization's or agency's mission when reading any articles or reports or analyzing research. Besides the scientific journals and government documents, here are some other sources of information:
What Your Doctor May Not Tell You about Children's Vaccinations,by Stephanie Cave, discusses lucidly the pros and cons of the different vaccines and offers a risk-benefit analysis, as well as an alternative vaccination schedule that may minimize exposure to any possible risks.
The National Vaccine Information Center (NVIC) (www.909shot.com), a nonprofit educational organization founded in 1982, is the oldest and largest parent-led group in the U.S. advocating reformation of the mass vaccination system. NVIC is responsible for launching the vaccine safety movement in America in the early 1980s. Contact: National Vaccine Information Center, 421-EChurch Street, Vienna, VA 22180; phone: 703-938-DPT3; fax: 703-938-5768.
SafeMinds (www.safeminds.org) is a nonprofit organization that works aggressively with government agencies and legislators to facilitate the removal of mercury from all medical products, as well as to create awareness campaigns for families and physicians to educate them about the issue.
The Institute for Vaccine Safety (www.vaccinesafety.edu) was established in 1997 at the Johns Hopkins University School of Public Health (now the Bloomberg School of Public Health). Its goal is to work toward preventing disease using the safest vaccines possible. Look on this website for information concerning vaccine schedules for infants and children, as well as the amounts of thimerosal (if any) in the different vaccines.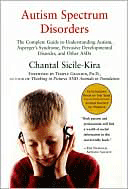 Excerpted from Autism Spectrum Disorders: The Complete Guide to Understanding Autism, Asperger's Syndrome, Pervasive Developmental Disorder, and Other ASDs©2004 by Chantal Sicile-Kira. All rights reserved including the right of reproduction in whole or in part in any form. Used by arrangement with Alpha Books, a member of Penguin Group (USA) Inc.
To order this book visit Amazon's web site.