Challenging Children: Getting Professional Help
Choosing Whom to See
Jan:
More than anything, I wanted to ensure we had the "right" person to do the testing. I didn't want to end up skeptical about the validity of any diagnosis.
After six weeks of gathering recommendations, I called the parent of another child in my daughter's class. Her son had ADHD. I wished I'd called her sooner. It was a relief to talk to a parent who was further along in this process. She gave me the names of the psychologist who had tested her son as well as a therapist her son was seeing.
Since we were increasingly concerned about Theodore's eroding self-esteem, I called the therapist. She strongly urged that we get testing results first to better understand what we were dealing with. Only after that should we bring him to see her.
This was my introduction to the concept of "sequencing interventions." Sequencing interventions means doing treatments or getting professional assistance in a sequence instead of all together. If you do everything at once, you won't know what's working and what isn't. Gradually I learned how important this is for using professional assistance wisely--and not overwhelming either my child or my pocketbook.
We narrowed the names I'd received down to a highly recommended neuropsychologist. When I called him, I reached him directly and had the chance to ask questions about how he tested for attention deficit disorder. Reputation, sterling recommendations from more than one person, and direct contact were the important factors in my decision. Then my gut instinct took over. I felt I could trust that this person knew what he was doing.
Seeking Other Parents with Children Like Yours
Ask teachers for names of parents you might talk with.(They might want to get that parent's permission first.)
Ask neighbors or relatives for more names.
Find a local support group where parents can share their experiences dealing with their challenging child.
Getting a Formal Assessment or Evaluation
Sharon:
When you reach the point where you want professional help, think in terms of getting a formal "assessment" or evaluation to help you understand what is happening with your child. Many people can administer tests; fewer have the ability to interpret the scores using their experience to understand your child. While technicians may be adequate for administering a test, the best assessors learn as much from talking with the child, family, and teachers, and by observing how a child "gets" to the answer, as they do from the scores themselves.
The trick is finding the "right" professional to evaluate your child--the one in whom you'll have confidence that their evaluation of your child rings true. To find that person (or persons), you have to do research and gather recommendations. It's a good sign when you get the same name from several, disparate sources. Interview qualified candidates for a comfortable fit. That doesn't necessarily mean you'll agree with everything they tell you--or that you'll like the conclusions they'll reach. The important thing is to find someone whose experience and judgment will help you better understand your child.
To find the professional who is right for you, some of the questions you should ask include:
What is your particular area of expertise?
What are your qualifications?
What are you licensed to do?
Do you specialize in evaluating children?
What's involved in an evaluation?
Do you provide specific recommendations as part of your evaluation?
How many sessions will it take?
What is the cost?
In addition to these questions about qualifications, costs, etc., you should also prepare a list of questions about what they--or any other expert you may see--might be able to do for you and your child.
Will your services result in a diagnosis?
Are you able to attend meetings to discuss the findings and make recommendations to educators?
Will the evaluation highlight my child's learning style and strengths as well as any disabilities?
Do you recommend additional services?
Do you provide any of the therapeutic services that may be necessary?
What can we expect to see in the way of change as a result of these services?
Once you are in someone's office, it's easy to become sidetracked and leave without asking important questions. Make sure whomever you see sets aside enough time to address all of your concerns. That often means forwarding your list of questions before the meeting.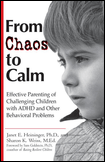 From From Chaos to Calm: Effective Parenting of Challenging Children with ADHD and Other Behavioral Problems by Janet E. Heininger and Sharon K. Weiss. Copyright � 2001. Used by arrangement with Penguin Group (USA) Inc.
If you'd like to buy this book, click here or on the book cover. Get a 15% discount with the coupon code FENPARENT.