Challenging Children: Getting Professional Help
Sequencing Professional Help
In general, the following sequence should help you make decisions about who to see first:
Deal immediately with serious worries about your child's life, safety, and control of your own behavior. Ask yourself:

Am I afraid my child may hurt himself or others? If so, get help now.
Is my child losing touch with reality, seeing or hearing things that aren't there, or experiencing an abrupt halt in development (such as sudden loss of language, sudden appearance of head-banging, etc.)?
Am I afraid I may harm my child?

If you receive a recommendation that medication might help, investigate that next.
Focus on behaviors that drive you crazy--specifically those that adversely affect daily routines. If things have deteriorated too far, family or individual therapy may be necessary.
Consider auxiliary services recommended such as occupational therapy, speech and language services, or physical therapies.
Depending on the child's need and family priorities, consider family or individual therapy, social-skills training, couples therapy, and education counseling. Evaluate each child on an individual basis.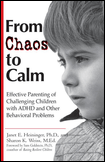 From From Chaos to Calm: Effective Parenting of Challenging Children with ADHD and Other Behavioral Problems by Janet E. Heininger and Sharon K. Weiss. Copyright � 2001. Used by arrangement with Penguin Group (USA) Inc.
If you'd like to buy this book, click here or on the book cover. Get a 15% discount with the coupon code FENPARENT.