Ranger's Apprentice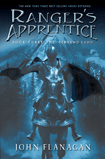 John Flanagan
Purchase Ranger's Apprentice Books
More About Books
Fun Stuff
The Icebound Land Quiz
What is the name of the Skandians' ship?
The Burning Bridge Quiz
Where is Morgarath's headquarters?
The Ruins of Gorlan Quiz
What is the Wargals' one weakness?
Features
Ranger's Apprentice Book Review
If you're a fan of fantasy and action books, you'll love the Ranger's Apprentice series by John Flanagan . . .
Ranger's Apprentice Characters
Will: His agility, intelligence, and wit prove to be perfectly suited . . .
Polls