Five Steps to Parent Problem-Solving
Alert!
If it is clear that a child is lying about the situation, you will need to implement a disciplinary action, such as a time-out, before trying to solve the problem. But bring that child back into the group to help with the problem-solving.
Determine the Goal
After you have defined the problem, you must figure out what the best outcome would be; what is the goal? The goal of this problem is that each child is happy. The goal is not that a child gets the toy that is being fought over. With only one toy and two children, that goal would be self-defeating. Therefore, at least one child needs to be happy without the toy for the problem to be solved.
List the Solutions
There are many possible solutions to every problem. You can verbally list them or write them down. Let everyone who is involved in the problem give options that would solve the problem. You may have to help younger children come up with different solutions. Offer them suggestions, but let them choose. Allow them to get creative and give them plenty of time to come up with options.
The most important part of listing solutions is that you allow all of the possibilities. No solution is too stupid, silly, or impractical. If one child in the example feels that leaving and going to Disney World is the solution, then that is a viable option to him and it needs to be respected. Think about your goal. When you tell a child that the goal is for everyone to be happy, Disney World really is an option. Once everyone has given his or her opinion, it's time to choose a solution to try.
Essential
Using a paper and pencil will help you remember all of the options listed when you are ready to choose a solution. You will cause hurt feelings if you forget a solution that a child has come up with. Avoid this by simply writing down all the options mentioned.
Alert!
Not all solutions work and sometimes they lead to more problems. This is normal. Instead of trying to fix all of the new problems, see if going back to the original problem and choosing another solution will help.
Choose a Solution
Evaluate each option as if it is doable, listing the pros and cons for each suggestion. This is a good time to set limits on what is allowable and what is not. For instance, say, one of the children in our ongoing example offered the option of keeping the toy as a possible solution. You listed it because it is a possible solution. But, it is not within the limits of good behavior since it would be a selfish act. Therefore, it is not a solution that the children can try out as an answer to their problem.
Help each child go over each option. You may also have to have the last say about whether an option is viable. If you do, give a reason that it is not a good option to try, but do not get into a power struggle over it. Say no, give the reason, and move on.
Re-evaluate
Did the solution you chose work? Would it have worked better if there were slight changes? Do you need to try another option?
Do not throw away a solution if it doesn't work the first time. Follow through with it again, possibly a couple of more times. Often it just takes everyone getting used to the new solution to this particular problem because they had handled it differently in the past. If, however, the decision doesn't work at all, begin to problem-solve the original problem again.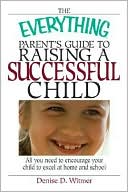 From The Everything Parent's Guide to Raising a Successful Child Copyright © 2004, F+W Publications, Inc. Used by permission of Adams Media, an F+W Publications Company. All rights reserved.
To order this book go to Amazon.