Rules, Praise, Ignore: A Philosophy for Effective Parenting
Prioritize What's Important
Household guidelines should be so limited in number that, when asked to list them,
both
parents can accurately do so. Most of the time, I find that parents can't remember their own list of rules without giving it serious thought. You don't want to be like the family I worked with where Mom said she didn't think there were any household guidelines and Dad had a typed list of forty-two rules. Such a disparity in expectations inevitably leads to a huge gap in enforcement. Furthermore, no one can remember forty-two rules--not even that father. If you can't recall every rule, how is your child supposed to remember, much less abide by all of them? Keep in mind, these rules are far less important to your child than they are to you.
Parents must agree on household guidelines. You need to discuss what is important to focus on right now and what can wait. There are always things that need improving. But you can't work on everything at once. If you prioritize, making safety supreme, and limit guidelines to what is essential to family functioning, you can pare your expectations down to an achievable number.
One Standard for All
Sharon: One pared-down set of guidelines, consistently reinforced, makes parenting easier on everyone. The existence of family policies or rules eliminates the need for different standards for each child. If the guideline is important, you want all of your children to abide by it. Having only one set reduces the chance that a more challenging child feels that all the rules are a reactive attempt to fix him, the broken child. By the same token, one set of household guidelines holds all children equally accountable for their behavior. Having one standard means all children know what is expected. That provides the structure and predictability that all kids--challenging ones, in particular--need.
Principles for Effective Guidelines
All children need (and want) boundaries and limits.
Guidelines exist in all families, though they may not be spoken or written.
Try whenever possible to state rules in positive terms.
Keep rules short and to the point.
Have the fewest number of rules possible.
Be consistent in using and enforcing the rules.
Call attention to rules when the child is following them. Don't wait until he has violated them.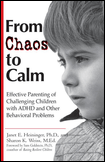 From From Chaos to Calm: Effective Parenting of Challenging Children with ADHD and Other Behavioral Problems by Janet E. Heininger and Sharon K. Weiss. Copyright � 2001. Used by arrangement with Penguin Group (USA) Inc.
If you'd like to buy this book, click here or on the book cover. Get a 15% discount with the coupon code FENPARENT.