Rules, Praise, Ignore: A Philosophy for Effective Parenting
Praise: A Powerful Tool for Change
Praise is critically important in helping your child alter his behavior. Just as we need others to notice when we do something well, kids need that same feedback, especially when building new patterns of behavior. Be descriptive when giving a child praise. "I'm so pleased that you didn't interrupt when I was on the telephone." "You came the first time I called." "I think it's wonderful that you put your bike in the garage without a reminder."
Praise keeps a child on track and, when specific, clarifies what behaviors you want to see again. You can often see your child's face light up when you praise him for a job well done. Watch the light bulb go off in his head when you describe how much you appreciate his holding his temper in check.
Praise for good behavior goes a long way toward improving the whole family dynamic and helps build your child's self-esteem. This is particularly important for challenging children who are all-too-accustomed to hearing about what they are always doing wrong.
Finally, never forget that your attention is something your child needs. Be sure to use it in the right way and at the right time. Stay away from backhand compliments such as "I knew you could do it. It's a wonder that you never did it before." When you notice that Jack has brushed his teeth without your reminding him, don't miss the opportunity to tell him how you feel about it as soon as he comes out of the bathroom. Praise is most effective when you give it immediately.
Pointer for Effective Parenting
If you want to see behavior again, pay attention to it.
Principles of Effective Praise
Praise keeps a child on track and on task.
Praise helps to build positive self-concept.
Provide extra praise for those behaviors that you want to build or increase.
Your attention is something that a child needs. Use it in the right way at the right time.
Be descriptive when giving a child praise. Say exactly what behavior you are praising.
Catch your child being good!
Ignore--or Disengage from--Bad Behavior
Sharon:
It is harder than it sounds to ignore bad behavior. Many parents tell their children to "just ignore" annoying behaviors from other kids, but if your child even mutters under his breath, you overreact. It's easier if you think of it as "disengaging" from rather than ignoring the whining, moaning, foot stomping, or slammed doors. "Disengaging" sounds so much more clinical than ignoring. "Disengaging" will make you feel as if you are doing something. "Ignoring" probably feels like you're failing to do something. Effective disengagement, however, means no feedback. Don't talk, don't touch, and don't look--if necessary, walk away. If your child erupts or starts to argue, don't take the bait. Disengage.
Guidelines for Effective Ignoring
Truly ignoring means:
No verbal contact
No physical contact
No eye contact

If you cannot ignore/disengage--leave the room.
When you ignore, be consistent. Ignore the behavior every time it occurs.
Heavily praise the opposite, positive behavior. Let your child know when he gets it right.
When you first ignore a behavior, be prepared for it to happen more often (in an attempt to get your attention).
Sharon:
Be prepared for your child's behavior to get worse when you first start to ignore it. After all, she's learned from previous experience that if she cries or he stomps around the house or mutters under his breath, you will react. Now all of a sudden you don't. Your child concludes: "Maybe Mom didn't hear me. Maybe Dad just didn't see how upset I am. I'll have to do it louder to make sure they hear." So, be prepared. Instead, "catch your child being good" and praise him accordingly. This goes a long way to reinforce the behavior you want to encourage. Finally, when you ignore a specific behavior, do so consistently.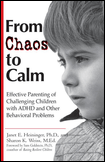 From From Chaos to Calm: Effective Parenting of Challenging Children with ADHD and Other Behavioral Problems by Janet E. Heininger and Sharon K. Weiss. Copyright � 2001. Used by arrangement with Penguin Group (USA) Inc.
If you'd like to buy this book, click here or on the book cover. Get a 15% discount with the coupon code FENPARENT.