Curing Canine Aggression
Many people believe that behaviors taught using positive methods aren't as reliable as behaviors taught using force. And even with evidence to the contrary, there are still some trainers who don't believe that positive training can work for behavioral problems like barking or aggression.
Positive is the only correct and effective way to work with aggression. Answer aggression with aggression and what do you get? More aggression! If you say to your dog, "I'll beat you, shock you, and punish you until you like this person (or dog)," then you might as well cash it in now. Reliability in training is all about taking small steps in training and setting the dog up to be right.
Myth: Force Works Better
Pooch Pointers
Reliability is the bane of all dog trainers, whether or not you compete in the show ring. None of us is 100 percent reliable in everything, and neither are our dogs. Use your head when needed. Don't let your dog off the leash to run rampant in the neighborhood and expect her to come when called.
Although a dog's desire to avoid pain is strong, the desire to gain pleasant consequences is stronger. Think about the last time you got a speeding ticket—did it stop you from speeding? Much of your dog's behavior is based on what's more reinforcing for her do to.
Let's say you're stopped by the police each time you're not speeding and are rewarded with $100. Every day for a week, you're stopped two or three times per day and handed $100. Then the police go to a random schedule of reinforcement. Now you get stopped only one or two times per day and only three or five times per week. Sometimes you get verbally praised, sometimes you're handed dinner tickets to your favorite restaurant, and sometimes you get the $100.
Once in a while you get pulled over and handed $1,000. Would you ever speed again? I sure wouldn't. I would take that money and run out and buy a van with cruise control because I wouldn't want to miss the chance of possibly getting the rewards! In the same respect, once a dog has learned something (good or bad), he tends to repeat that behavior over and over. Behaviors learned through force tend to fall apart when the dog is under stress. But behaviors learned in pleasant circumstances with positive consequences are less likely to fall apart under pressure.
Myth: Positive Training Isn't Effective with Barking or Aggression
Dogs trained using a clicker can be easily taught alternate behaviors to replace the unwanted ones. Trainers using positive principles often devise very creative ways to change undesirable behaviors such as barking and aggression. I've personally used positive training to solve a number of serious behavioral and aggression problems.
I've seen dogs barking in crates. I've seen their owners come up to the crate, kick it, yell at the dog, take the dog out of the crate when they can't stand it anymore or if it becomes an embarrassment, and otherwise reinforce the dog for barking in the crate.
I've seen owners put collars on their dogs that deliver an electric shock or a spray of citronella to get them to stop barking. After a few zaps with the shock collar or some sprays with the citronella collar, they hang the collar on the crate and say, "See? The dog is now not barking." True, but take the collar away and the dog starts barking again because now the threat of punishment is no longer there. And the dog hasn't learned anything constructive, such as being quiet in the crate.
If you don't give your dog a job that you approve of, he will become self-employed—and I promise you, you won't like his choice of employment.
Aggression can be easily (although not necessarily quickly) corrected by using positive methods. You can't answer aggression with aggression and expect the dog to become friendly. Doing that would be the same as if someone was yelling or hitting you because you were afraid.
Find out more about stopping aggressiveness in Correcting Dog Aggression.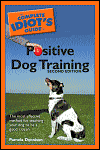 Excerpted from The Complete Idiot's Guide to Positive Dog Training © 2005 by Pamela Dennison. All rights reserved including the right of reproduction in whole or in part in any form. Used by arrangement with Alpha Books, a member of Penguin Group (USA) Inc.
To order this book visit the Idiot's Guide web site or call 1-800-253-6476.