Correcting Aggression in Dogs
Canine Caveats
Neutering male dogs doesn't get rid of aggression, because aggression is a learned behavior. There's no "aggressive gene" in testicles. This doesn't mean that I don't agree with neutering—I wholeheartedly do, but not as the "cure" for aggression.
Aggression is a learned behavior. That's hard to comprehend sometimes, and we may want to try to justify and explain away the aggression by saying, "Well, what do you expect from a (insert name of breed here)?" That only gets rid of any guilt or denial you may feel; it doesn't help you get out of the problem that punishment caused.
The breed of dog has nothing to do with aggression. Yes, this includes even the breeds that have so recently made headlines for mauling people. Bad training methods are bad training methods. Period. Answer aggression with aggression, and think you'll get a happy, well-adjusted dog? Think again! I've worked with many of the so-called "aggressive" breeds and found them to be wonderfully smart, sweet, and teachable.
Signs of Aggression
Some of the more obvious signs of aggression are the following:
Growling
Biting
Snarling
Snapping
Attacking
When I come across a dog who growls at me, I get down and kiss her feet (well, not literally) and thank her for warning me. Punish the dog for giving off a warning and guess what? You won't get warnings anymore—you'll just get a bite.
Types and Causes of Aggression
Muttley Meanings
Scheduled induced aggression is aggressive behavior that occurs when the results you get don't match your expectations. You know that if you put money in a soda machine, your purchase comes out. If you put money in and nothing comes out, what do you do? You may kick the machine, pound on it, rock it, or grab a sledgehammer and smash it. Why? Because we've learned that putting money into the machine always yields us a soda. When it doesn't, we get angry.
Doggie Data
Buddy lived in a household with three other dogs. When a fifth dog was brought in, Buddy did an about-face in behavior. Even though he used to be very gentle and nice to strange dogs—he became fearful and would growl and snap at other dogs.
What happened? It turns out that the fifth dog was very punishing to Buddy, and Buddy was showing redirected aggression to other dogs. Once the fifth dog was managed better and the punishing stopped, Buddy went back to being his normal, sweet self.
And was the fifth dog punished? No way! He was heavily reinforced for presenting friendly behavior, and soon stopped bullying Buddy on his own!
There are many, many causes of aggression, and most of them, if not all, can be corrected. For example, some people who own aggressive dogs may deliberately encourage the dog because they enjoy the feeling of power or of feeling protected.
Here is the short list of causes:
Territoriality
Putting animals in a position to feel vulnerable to attack by other dogs (such as forcing their heads away by the use of head halters)
Influx of new members to the household (canine or human)
Resource guarding—can be food, objects, or humans
Hormonal—normal seasonal fluctuations, such as breeding, arousal level, or cycling females
Physical stress—injury, illness, drugs, reactions to collars or corrections
Responses to punishment
Scheduled induced aggression—incorrect use of a reinforcement schedule
Our responses to aggression—accidental reinforcement
Observational learning—allowing dogs to chase or attack other animals
Correcting Aggression
The first step in controlling and preventing aggression is to understand the situations that frequently trigger the aggressive responses in your dog. Once you're aware, don't give your dog the opportunity to practice that behavior by repeatedly putting him in that situation.
Although punishment (from humans) may initially suppress aggressive behaviors, dogs learn to mask the early observable (to humans) aggressive signals in order to avoid punishment. Punishment can actually lead to and cause a variety of negative manifestations, including aggression. Read The Negative Spiral of Punishment for Dogs to find out more about how punishment effects your puppy.
Remember when I said aggression is a learned behavior? Aggression, from the dog's point of view, keeps the animal safe from danger. If a scary thing appears out of nowhere and startles the dog, the dog aggresses, and the scary thing either goes away or the owner takes the dog away. The aggressive behavior worked and will be repeated the next time the dog is afraid.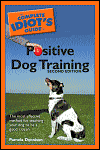 Excerpted from The Complete Idiot's Guide to Positive Dog Training © 2005 by Pamela Dennison. All rights reserved including the right of reproduction in whole or in part in any form. Used by arrangement with Alpha Books, a member of Penguin Group (USA) Inc.
To order this book visit the Idiot's Guide web site or call 1-800-253-6476.