Preventing Your Dog from Biting
Pooch Pointers
When was the last time your dog got together with Muffy from down the street to play Parcheesi? Not in your recent memory? Maybe they do when all the humans are sleeping? I think not. Dogs play by biting, body slamming, chasing, humping, growling, barking, and knocking over furniture. This is normal dog play behavior. It's not aggression—even if the play is directed at you.
Pooch Pointers
If your dog bites because you're trying to handle or groom her, review the handling guide.
Pooch Pointers
When you're feeling lazy after a hard day, repeat after me: "A tired dog is a good dog." I don't know about you, but I really love to see my dogs having such a good time, knowing that I'm able to make those fun things possible. Is that egotistical? Maybe, but my dogs are good dogs! I'll have plenty of time to lie around and watch TV in my next life.
"Ouch! There he goes again! Stop it. Stop it. I said stop it! This dog is driving me crazy!" Sound familiar? Biting, like jumping, can be inadvertently reinforced by your actions. In fact, the cures for biting are similar to those for jumping.
Dogs bite for many reasons: because they can, because that's how they play with other dogs, because they get a "rise" out of us, and because it's fun.
Quit Biting!
If your dog bites you or mouths you, use calming signals—turn sideways, yawn, move slowly away, or sit or lie down (if possible, without being further mauled).
Watch for any patterns of when the biting or mouthing behaviors start. Is it a certain time of day, are you ignoring the dog, or are you overexciting the dog with too-rough play? Is the dog underexercised, overfed, or bored?
If he bites you at a certain time of day or when you are too busy to pay attention to him, you have two options: you can start engaging him in play before he starts, or you can completely walk away and ignore him. Put a barrier between you two if necessary or go into another room and shut the door. You must be silent, however, and you can't be silent when you're in pain, so this should be a good incentive for you to watch your dog and stop the biting behavior before it starts!
If your dog is underexercised and overfed, well, you know what you have to do. Get up off the couch and go outside and have a party. Walking sedately around the block on a six-foot leash is not enough aerobic exercise for the normal dog. He needs running, swimming, chasing toys, hiking, long walks in the woods, and whatever else you can think of that your dog likes.
You may be stressing out your dog by playing too rough with him. You get rougher and he doesn't know how to get you to stop, so he bites you. Should you be angry? No! You're the one who pushed him too far. If this is happening to you, you have some choices. Stop roughhousing with the dog and use toys instead. Or if you insist on playing with him with your not-puncture-resistant arms and hands, stop the play before your dog gets too aroused or stressed. Then pet him lightly and gently to calm him down completely.
Biting the Kids
Does your dog chase and bite kids who are running? Then desensitize him to running kids and teach him to ignore them. Or use better judgment and don't let the dog be around the kids when they're acting like screaming banshees. And review Teaching Your Children to Handle Dogs.
Perhaps your dog bites your kids for inappropriate petting (on the head and back-of-neck areas). So teach them how to pet the dog so that he doesn't feel threatened and teach the dog to accept inappropriate petting.
If you have a youngster toddling around, teach your dog to accept pinching and hair pulling. Pinch, and click and treat for no reaction, then pull, and click and treat for no reaction. Don't start out by yanking the dog off his feet—start out lightly, and gradually build to harder pinches (although not so hard as to bruise him).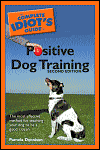 Excerpted from The Complete Idiot's Guide to Positive Dog Training © 2005 by Pamela Dennison. All rights reserved including the right of reproduction in whole or in part in any form. Used by arrangement with Alpha Books, a member of Penguin Group (USA) Inc.
To order this book visit the Idiot's Guide web site or call 1-800-253-6476.