Stopping Bad Dog Behaviors in Stressful Situations
Pooch Pointers
Some people might insist on approaching your nervous dog, perhaps saying, "Oh, it's okay, I have dogs at home," or some other such nonsense. It's up to you, the owner, to keep your dog safe from people like this. You wouldn't allow a stranger to approach and touch your child, would you? Of course not. So don't allow strangers to approach, especially when your dog has already shown that he's nervous.
You can (and should) stop "bad" behaviors before they start or escalate. It's extremely important to learn to detect the subtle signals of stress and to intervene on your dog's behalf. Waiting to do some- thing until your dog is in full defense mode is counterproductive. Dogs in defense mode are aroused, their heart rate is high, their adrenaline and glucocorticoid levels are high, and it takes two to six days for these stress hormones to come down to normal levels. Until then, the dog is incapable of learning.
Any added stressor that the dog comes into contact with before the hormone levels go back to normal will set the dog's stress clock even higher, and the dog may react even more vehemently.
Strange People Approaching Your Dog
Doggie Data
When I was a groomer, a lovely, well-adjusted, happy Springer Spaniel, who came in often, all of a sudden one day started growling at me, and his eyes were very scary. When his owners came to pick him up, I explained what had happened and asked about any changes in the household, diet, or health. They'd also noticed a slight change in the dog's behavior, and, upon further examination, learned that the new baby-sitter was abusing both the dog and their grandson.
The moral? Don't ever punish your dog for growling—listen to what he's saying. I knew that the aggressive display was out of character. Because I didn't let it go, the dog and child were saved from a bad situation.
If a stranger approaches you and your dog, and your dog gets nervous, tell the other person to stop his or her approach, or simply walk away from the person. The general public doesn't own your dog and there's no law that I know of that insists that the general public be allowed to pet your dog.
There is some old wives' tale that says you must reach out a hand to let the dog sniff you, and after that, it is okay for you to pet him on the head. Like most old wives' tales, this is wrong! As we learned, the dog sees this as threatening. The proper thing to do is to crouch down to the dog's level and let him sniff you at his own pace.
Dog-to-Dog Confrontations
Let dogs give their signals to each other, rather than forcing "obedience." If your dog is nervous about another dog, don't force her to walk close to the other dog—arc around at a distance so that both dogs feel comfortable.
Not every dog has to be friends with every other dog. My preference is that my dogs be calm around all other dogs, rather than expect playmates in all the dogs we meet. After all, we don't like every person we meet, either.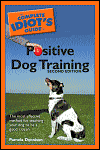 Excerpted from The Complete Idiot's Guide to Positive Dog Training © 2005 by Pamela Dennison. All rights reserved including the right of reproduction in whole or in part in any form. Used by arrangement with Alpha Books, a member of Penguin Group (USA) Inc.
To order this book visit the Idiot's Guide web site or call 1-800-253-6476.