Stopping Bad Dog Behaviors in Stressful Situations
Leashes
Muttley Meanings
Redirect or redirected aggression means to take an emotion that a dog or human can't express in a situation and direct it toward another object, human, or dog. For example, your mom just yelled at you, so to alleviate the stress you're feeling, you yell at anyone it is "safe" to yell at.
You can inadvertently teach your dog to be aggressive by the way you use your leash. You should use the leash as a safety net, not as a tool. Your relationship is what should control the dog. Leashes can break or be yanked out of your hand, and collars break, too. If you use the leash as a tool, you really don't have a relationship with your dog.
If you continually yank on your dog, then you're stressing her and she can't concentrate on anything other than "What is this pressure on my neck? Stop yanking me!" She then may redirect onto the next object she sees.
A dog on a leash, just by virtue of being confined, is in a defensive mode—she can't escape danger and she knows it. That's why so many dogs are aggressive when they're on a leash.
If you yank your dog away from another dog, the state of arousal becomes higher and higher until what perhaps started as a simple, "Hi, who are you, and what's your name?" can quickly become, "Come any closer and I'll rip your throat out!" If your dog doesn't yet walk on a loose leash around other dogs, avoid the company of other dogs until you've trained more. You can certainly do some off-leash work if the other dogs are friendly and the area is safe. See Building an Outdoor Relationship with Your Dog for a full discussion of training your dog on the leash.
The best way to introduce dogs to each other is in a safe, enclosed area with leashes off and only two dogs at a time. A great deal of tension travels down the leash from you right to the dog. If you're nervous, the dog will be nervous and stressed about the other dog, too.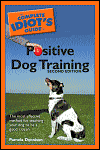 Excerpted from The Complete Idiot's Guide to Positive Dog Training © 2005 by Pamela Dennison. All rights reserved including the right of reproduction in whole or in part in any form. Used by arrangement with Alpha Books, a member of Penguin Group (USA) Inc.
To order this book visit the Idiot's Guide web site or call 1-800-253-6476.