Are You Accidentally Reinforcing Bad Dog Behavior?
One of the hardest things to comprehend is that dogs are avid students and quickly learn exactly what we teach them. The problem is that we humans teach them the wrong behaviors! We don't do this on purpose, of course, but we do it nonetheless.
Day after day, week after week, year after year, I see people repeatedly reinforcing what they don't want! Then they get angry at the dog, perhaps thinking that they have a stupid or stubborn dog. In reality, the dog is actually quite smart and is doing exactly what she was trained to do.
One Dog's Punishment Is Another's Reinforcement
It's not up to you to decide what's reinforcing (or punishing) to your dog—it's your dog's choice. One of my own dogs—Beau—hates tortellini and acts like I am trying to poison him, yet Cody would kill for tortellini. I've seen some dogs who love to be sprayed in the face with water and other dogs who find this very punishing.
If it suppresses behavior, it's a punishment. If it increases behavior, it's a reinforcer. Don't forget, though, that punishment only suppresses behavior; it doesn't eliminate it. It may stop the behavior for a short time, but the behavior always comes back at one time or another.
What Behavior Do You Want?
First of all, you must know the exact behavior that you really want. Sounds simple doesn't it? But most people are so angry or upset and focused on their dog's "bad" behaviors that they can't think clearly.
Pooch Pointers
My preference is to reinforce "good" behaviors that are incompatible with "bad" ones. For instance, sitting is incompatible with jumping. Have an active dog who climbs the walls? Lying down is incompatible with rearranging the furniture.
Try not to concentrate on the behavior you don't want—really think about what you want to the dog to do instead. Make a list of all the behaviors the dog does that you don't like, in one column. Then in another column, write down the behaviors that you would prefer the dog to do. (See Positive Policies in Dog Training for a sample chart.) Once you have your list, you'll know exactly what you want. Then reinforce only the "good" behaviors.
The following sections discuss some of the behaviors that are probably on your list and what you can do about them.
Bark! Bark! Bark!
Your dog barks incessantly and you ignore him up to a point. Then you start barking (yelling) along with the dog, thus reinforcing the dog's barking. Yahoo! Barking is a very hard behavior to stop because there are so many triggers for it. Real or imagined noises, sights, smells, other animals, kids, and fast movements are just a few of the eight zillion prompts for barking.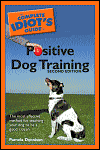 Excerpted from The Complete Idiot's Guide to Positive Dog Training © 2005 by Pamela Dennison. All rights reserved including the right of reproduction in whole or in part in any form. Used by arrangement with Alpha Books, a member of Penguin Group (USA) Inc.
To order this book visit the Idiot's Guide web site or call 1-800-253-6476.