The Negative Spiral of Punishment for Dogs
Some dogs may tolerate more punishment than others. Some of them are happy, willing workers—or seem to be. After a while, however, they may shut down and refuse to work, or may develop neurotic behaviors that seemingly came out of nowhere.
What Is Punishment?
So what constitutes punishment to a dog? The sky's the limit here—verbal reprimands, yelling, screaming, hitting, spanking, slapping, leash jerks, shock collars, head halters, choke collars, hoses, spray bottles, soda cans with pennies in them, citronella collars—anything that's meant to stop behaviors in a negative way.
A mommy dog may grab a puppy dog by the neck and reprimand the pup. What we as humans fail to see are the "okay, okay, I'll stop" signs that the puppy gives. Mommy dog does see these signs and relents immediately. Humans are simply incapable of detecting those signs because we are not dogs.
If you try to do this to a dog and the dog says "uncle," you have no clue and continue on. What can this cause? The pup will now get really angry because she has been trying to say she is "sorry," and yet you continue to pound her. She may then bite, growl, or become afraid of you.
Now you have trained your puppy that even if she submits, she is going to be punished anyway. This will lead to an aggressive, fearful dog or one that goes into learned helplessness because she is not able to get the punishment to stop.
Escalating Punishment
Say your dog pulls on the leash. The first time, you yank him back. The next time, you yell at him. The third time, you hit him. Now you put a prong collar on him and continue to hit, yell, scream, and yank back. He is still pulling on the leash. And now, because of the punishment, he's possibly aggressing at people or dogs, and congratulations! You have now created a leash-aggressive dog!
Your dog jumps on people coming to the door. Today you push him down. He comes back for more. You push him down harder. Up he goes again. You knee him in the chest. He finally stops jumping. You are positively reinforced for using punishment because "it worked!" The next time he jumps, you will knee him in the chest.
Tomorrow he is jumping again. You start with kneeing him in the chest—because "it worked yesterday." It isn't working today, so you squeeze his paws so tightly that he screams in pain. He stops jumping—today. You are reinforced again for using punishment: "Okay, now I get it—I have to squeeze his paws until he screams." And what will you do tomorrow?
Observable Effects of Punishment
We can't assume (because we all know what happens when we assume) that we know how an animal is feeling or what he's thinking, but we can observe and measure behaviors. Be careful when observing, though—some of these behaviors, especially avoidance, look to us imperfect humans as "guilt." They are not. Punish your dog and these six behaviors will happen in this order, and they can be reliably observed and measured:
Anxiety  Measurable by body chemistry
Fear  Observable behavior
Escape  Observable behavior
Avoidance  Observable behavior
Aggression  Observable behavior
Learned helplessness  Observable behavior
Many people will then punish their dog for displaying these behaviors, which only escalates the dog's response.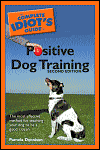 Excerpted from The Complete Idiot's Guide to Positive Dog Training © 2005 by Pamela Dennison. All rights reserved including the right of reproduction in whole or in part in any form. Used by arrangement with Alpha Books, a member of Penguin Group (USA) Inc.
To order this book visit the Idiot's Guide web site or call 1-800-253-6476.