Your Dog's Health Screening Documentation
Other Orthopedic Problems
Elbow dysplasia refers to inherited elbow disease, consisting of one or more problems in the elbow joint. Usually, a dog with elbow dysplasia in one elbow has it in both. Symptoms of elbow dysplasia include lameness, faulty movement as the dog tries to compensate for elbow pain by turning his front toes inward, and limited range of motion in the elbow. Symptoms usually appear in puppyhood; the exact age depends on the individual's particular problems as well as environmental influences, such as weight and exercise. In breeds that are prone to elbow dysplasia, breeding animals should be x-rayed and found free of elbow dysplasia before being bred.
A cushion of cartilage protects the ends of a dog's long leg bones. Although it protects the bone, the cartilage itself can be injured, particularly in a large, active, young dog. If the cartilage in the joint cracks and tears, the dog has osteochondrosis (OC). If bits of cartilage break free and float in and around the joint, the dog has osteochondrosis dissecans (OCD). OCD usually affects the shoulder or elbow, but may also occur in the hip or knee, causing inflammation of the joint (arthritis), lameness, and swelling of the joints (especially after exercise). OCD is usually quite painful. Symptoms usually appear when the dog is between four months and one year old. Research suggests that a dog must inherit a predisposition for OCD, which is then brought on by trauma, usually in the course of normal exercise.
As I write this, the OFA is conducting research on OCD, but at present there is no standardized screening test for the disease. If you're considering a breed in which OCD commonly occurs, ask the breeder about the incidence of the disease in your potential puppy's relatives. Your best bet is a pup with no close relatives affected by the disorder.
The patella, or kneecap, is located in the stifle joint in the dog's hind leg. If the patella luxates, it slips out of its normal position and locks the leg straight, which is painful and potentially crippling. Patellar luxation is a problem in many toy breeds as well as some larger breeds. A veterinarian can check for patellar luxation even in young puppies. Dogs with luxating patellas should never be used for breeding. If you're considering a breed prone to this disorder, ask to see either OFA certification or a letter from a veterinarian certifying that the parents have normal patellas. If possible, ask that your puppy be examined by a vet before you bring him home, or retain the option of returning him for a full refund within a certain time if your own vet finds his patellas to be abnormal during his first puppy exam.
Other orthopedic problems occur in some breeds and affect different parts of the skeletal system, including the spine and various joints. Learn about your breed, and if it is prone to any of these disorders, insist on seeing the appropriate documentation before you buy your puppy.
Inherited Eye Disease
Inherited eye disorders affect many breeds. If eye diseases are a problem in your chosen breed, be sure to see documentation of an eye examination within the previous year. Ask about the grandparents of the puppy as well; hopefully, there is evidence that they also passed yearly eye examinations until at least six or seven years of age. In some breeds, the puppies, too, should have their eyes examined at a specific age, so find out whether that is recommended for your breed. All eye examinations should be done by an American College of Veterinary Ophthalmologists (ACVO) board-certified specialist. General practice vets don't have the special training or the equipment necessary to administer a thorough eye examination.
The Canine Eye Registry Foundation (CERF) maintains a registry of purebred dogs that have been examined by ACVO Diplomats (members) and found to be free of major inherited eye disease. CERF also issues certificates to those owners who submit the results of the ophthalmologist's exam. However, many breeders prefer to see the actual examination form rather than a CERF certificate, because the ophthalmologist may note certain conditions that would not prevent a dog from getting a certificate, but which are of concern to careful breeders. In any case, you should see originals or copies of either a CERF certificate or a certification of eye examination by a veterinary ophthalmologist.
Testing for Other Inherited Disorders
So is that it? Watch out for orthopedic and eye problems and you're home free? Well, no, not quite. Some breeds are prone to inherited heart defects; blood disorders; kidney, liver, and lung disorders; diabetes; and deafness. The incidence of cancer is very high in some breeds. Idiopathic (inherited) epilepsy occurs in a number of breeds. A few breeds even have their very own inherited disorders that occur in no other breeds.
Unfortunately, no tests have been developed yet for some of these problems. Your best approach is to read as much as you can about the breed, find a breeder you trust, and ask her what she's doing to control the problem in her puppies. Ask for evidence of testing where that is possible, and find out as much as you can about relatives of the pup you're considering.
Remember, though, that there are healthy dogs out there! It's well worth the extra time and effort it takes to find a breeder who does everything humanly possibly to produce healthy pups from healthy parents.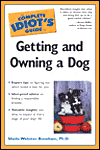 Excerpted from The Complete Idiot's Guide to Getting and Owning a Dog © 2003 by Sheila Webster Boneham, Ph.D. All rights reserved including the right of reproduction in whole or in part in any form. Used by arrangement with Alpha Books, a member of Penguin Group (USA) Inc.
To order this book visit Amazon's web site or call 1-800-253-6476.