Dog Training: The Three Laws of Learning
No matter which method you use, be it positive reinforcement or punishment-based methods, the laws of learning remain the same. You can run, but you can't hide! It doesn't make any difference if you're training a dog, person, cat, or goat. Although they are all widely diverse in many areas, including modes of communicating, social needs, desires, and basic fundamental drives, they do have one thing in common: all are obedient to the laws of learning.
The three basic laws are the following:
Rewarded behavior gets repeated.

Ignored behavior stops.

Once a behavior is in place, variable rewards will strengthen the behavior.
If you've noticed, I never said the behaviors strengthened would be good ones. Let's say you continually leave food on the counter and your dog has been rewarded many times for stealing it. Now you decide to keep your counters spotlessly clean, and after a long time, your dog never even thinks about jumping up to steal some food. Then for about a week or so, you're very busy, forget to put the food away, and your dog is taking food off the counter again. Life is better for you now and you go back to putting the food away, but because your dog has now been randomly reinforced for jumping on the counter, that behavior will become very strong.
The First Law of Learning
Behavior that is rewarded is most likely to be repeated:
Your dog mauls you when you come home wearing a clean suit, you pay attention to him (either positively or negatively), and he will continue to maul you whenever you come home.
You might wonder how negative attention (yelling or hitting) could be rewarding for the dog. If the only time you interact with your dog is to tell him what he did wrong, then he'll continue to do those very behaviors. Sounds pretty darned stupid doesn't it? But to the dog, being yelled at is preferable to being ignored. It isn't as though I don't punish my dogs, but the punishment consists of ignoring them. Because my attention is so positively reinforcing for my dogs, being ignored sends a very strong message that "Mom isn't happy."
The Second Law of Learning
Behavior that is not reinforced will most likely stop (extinguish):
You come home, your dog starts to maul you, and you now ignore the dog for about 10 minutes until she relaxes, and then you pay attention to her.
Now when you come home, she will lie down and relax until you come over to greet her.
The Third Law of Learning
Once a behavior is established, a variable schedule of reinforcement will make the behavior stronger:
You come home and are now wearing old clothes, so you allow the dog to jump on you, but you continue to ignore the dog when you're wearing a suit.
Guess what? Your dog isn't a fashion critic and will continue to maul you when you come home, because you are variably (sometimes yes and sometimes no) reinforcing the jumping.
Unlike classical conditioning, where a natural, reflexive behavior (like salivating for food) is associated with a new stimulus (the metronome), operant conditioning is the rewarding of a partial behavior or a random act that resembles the desired end behavior.
Eureka! Variable Reinforcement
In the days before prepackaged rat food, Skinner noticed that he would run low in the middle of an experiment. Because he had to make his own food, he decided that he would reduce the number of reinforcements given for a particular behavior. Skinner discovered that the rats continued to perform their behaviors at a consistent rate. Behold the discovery of schedules of reinforcement!
Using and understanding variable reinforcement schedules are vital in teaching longer and stronger behavior patterns. Gambling casinos know this, which is why they make so much money on slot machines. Think they just made up the idea of slot machines? Think again! They have scientifically determined the optimum reward schedule—they let you win just enough to keep you hooked! Brilliant!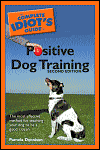 Excerpted from The Complete Idiot's Guide to Positive Dog Training © 2005 by Pamela Dennison. All rights reserved including the right of reproduction in whole or in part in any form. Used by arrangement with Alpha Books, a member of Penguin Group (USA) Inc.
To order this book visit the Idiot's Guide web site or call 1-800-253-6476.