Dog Trainers and Positive Training
It's Not the Dog, Silly
Canine Caveats
Don't assume that your dog is stupid. Your dog is probably confused by the mixed signals you're giving her.
Pooch Pointers
Positive training gives us freedom—no more punishment, no more drilling, no more blaming the dog for not doing something that we didn't take the time to truly teach.
The clicker also imparts valuable information to the trainer. When we try to mark the behavior with words, such as the ever-popular "good dog," it's hard to tell whether or not we're late in marking the behavior.
With the clicker, we can easily tell when we're late, which will help us to then fix our timing. If we have been continuously late with our verbal "good dog," then we can pretty much assume that our dogs are confused and probably not "getting it." Then we wrongly think that our dogs are stupid when, in fact, we were the ones who weren't clear.
Positive training takes the onus off of the dog and puts it squarely where it belongs—on us. The dog is never wrong. Really. We're the teachers. We're the ones in the driver's seat. When we make a wrong turn and get lost, we can't blame the person next to us because we were the ones holding the wheel. (Unless, of course, it was your spouse telling you to make the wrong turn.)
A few correct repetitions do not a learned behavior make. And if the dog does a wrong behavior, so what? We all make mistakes or do stupid things—even when we know better. I'm allergic to certain foods, but I eat them anyway. And I sometimes say stupid things (insert foot in mouth).
Clicker training is all about a change of mental attitude. Clicker trainers have learned to use their brains to train specific behaviors, rather than use pain to elicit those same behaviors. The result? Happier dogs, happier trainers, better relationships, and fewer behavioral problems.
Find out the reason why clicker training is so effective in
Dog Training: The Three Laws of Learning.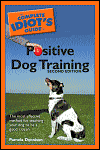 Excerpted from The Complete Idiot's Guide to Positive Dog Training © 2005 by Pamela Dennison. All rights reserved including the right of reproduction in whole or in part in any form. Used by arrangement with Alpha Books, a member of Penguin Group (USA) Inc.
To order this book visit the Idiot's Guide web site or call 1-800-253-6476.