Positive Policies in Dog Training
Ignoring What You Don't Like
Pooch Pointers
Crate training is not only not cruel, but it's also an important part of the dog's comfort and security. Teaching this important skill is addressed in Crate Training.
Easier said than done. Now that you know what you do want, I'm sure you know what you don't want. You can address the unwanted behaviors in a few ways:
Completely and utterly ignore them—simply walk away, go into another room, or leave the house.

Redirect the dog to a behavior you can then positively reinforce.

Manage the situation better by putting the dog in his crate before he starts driving you crazy.
What if you can't watch the dog because you're preparing a sit-down dinner for 50 people and he wants to sample the menu to make sure no one gets poisoned (such a selfless doggie!)? Put him in his crate beforehand with a nice juicy bone, and voilà! Uncle Ben's Instant Good Dog!
Breaking Down Each Behavior into Tiny Pieces (Approximations)
Muttley Meanings
Approximations are breaking behaviors down into small steps that make up a final behavior.
Pooch Pointers
The best approach when teaching a new behavior is to write down what the finished product is going to look like and then break it down into tiny pieces. If at any point your dog seems stuck, then your approximation was probably too large. If a behavior falls apart, go back a step or two and review. A normal part of learning is forgetting. Heck, even big-brained primates go to school for a minimum of 12 years. Give your dog a break!
The key to training your dog is to help her experience success without the fear of making mistakes. This is achieved through approximation training. Picture a flip-book, where you flip the pages and it looks like a movie. Whatever behavior you want, make a mental flip-book of it. Then just train each page. The key to success is to know how to break each behavior down into its smallest components so that your dog can understand the behavior. These small successes set her up to be right, thereby keeping her interest, as well as building her confidence.
Breaking behaviors into small segments, rather than lumping big chunks of behaviors together, makes it easier for the dog to understand. You didn't start out with calculus before you even knew that 1 + 1 = 2. You owe it to your dog to help her to be successful.
If you expect your dog to walk on a loose leash for a mile the first time you put a leash on him, you're setting him up to fail, and setting yourself up to be annoyed. Any behavior, no matter how seemingly easy (to you), can be broken down into very small steps.
If you take that same behavior and start by teaching the dog to look at you while on leash, then move to one step of loose-leash walking, then two steps, then three, and so on, you are breaking the behavior down into manageable and attainable pieces. (In-depth instructions for teaching loose-leash walking are in Building an Outdoor Relationship with Your Dog.)
"So that the dog can understand" is key here. You may think the behavior is easy, but perhaps your dog doesn't think so. Remember when you first learned to write with a pencil? The teacher didn't hand you a pencil and then start straight in teaching you to write. He or she probably taught you how to hold the pencil first, making sure it was comfortable for you, and taught you the proper body posture while holding the pencil. The next step may have been tracing letters or numbers until you felt comfortable to go it alone, without tracing. The teacher might have even helped you by holding your hand.
Raising the Criterion Once Each Step Is Learned
Pooch Pointers
If the behavior being taught is complicated, an even shorter session is called for. Don't be afraid to train the dog for as little as 30 seconds or for just one correct repetition.
Let's look at the stay-at-the-door behavior (for more on door etiquette, see Door Etiquette for Dogs). You will start out with a short one- to two-second stay while your hand is on the doorknob. You will continue to ask for and reinforce very short stays while your hand then turns the knob, then opening the door a fraction, and so on. Once the dog has been continually successful with each step, raise the criterion and go to the next level.
Your job is to advance behaviors, so don't get too stuck on each step when building a long behavior.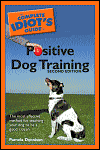 Excerpted from The Complete Idiot's Guide to Positive Dog Training © 2005 by Pamela Dennison. All rights reserved including the right of reproduction in whole or in part in any form. Used by arrangement with Alpha Books, a member of Penguin Group (USA) Inc.
To order this book visit the Idiot's Guide web site or call 1-800-253-6476.