Positive Policies in Dog Training
The Definition of a Learned Behavior
Many people mistakenly think that a dog who happens to perform a behavior once or twice on cue actually knows the cue. You may think that your dog is just being stubborn or stupid, but in reality he is just undertrained. The dog doesn't know it yet because he has not experienced enough correct repetitions in enough varied situations. Dogs are notoriously poor generalizers—just because your dog knows the behavior at home, this does not mean that he will know it elsewhere.
I like to use behavioral psychology's definition of a learned behavior: "A learned behavior is one that occurs correctly in at least 8 out of 10 tries, out of 10 trials." If your dog cannot perform a behavior correctly 80 out of 100 times, then she hasn't learned it yet. It's that simple. I would like to add my own addendum to that definition—"and in at least 15 new and different locations with varying degrees of distractions." If this sounds daunting, take heart! The more novel environments and distractions you add in, the quicker your dog will learn to generalize.
Keeping Sessions Short and Successful
Continuous failure is a poor teacher. It can create a frustrated, aggressive, or quitter animal. The optimum sessions are three to five minutes in length, three to five times per day, working on only two or three behaviors each time.
Fixing Bad Behaviors by Reinforcing Good Ones
Canine Caveats
A dog can see continual repetitions of behaviors (drilling) as a form of punishment. Even if the behavior is correct each time, it can get tedious. You want learning to be fun for your dog, not boring.
Reinforce your dog for having four paws on the floor rather than jumping. Reinforce the dog for walking on a loose leash rather than pulling. Reinforce the dog for having a toy in her mouth rather than your arm. By focusing on the good stuff, the bad stuff usually goes away with very little extra training.
Watching Your Timing
Timing is everything. Improper timing using positive methods slows down learning. Improper timing using punishment methods constitutes abuse. Don't get me wrong—bad timing using positive methods can create more bad behaviors, but these are easy to fix once you fix your timing.
My rule of thumb is this: if the dog does something great, reinforce (or click and then reinforce if the dog is far away) within a half second. If the dog does something less than desirable, wait for a full five to ten seconds after he stops doing the unwanted behavior, redirect to a better be-havior, and then reinforce.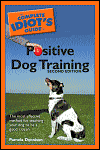 Excerpted from The Complete Idiot's Guide to Positive Dog Training © 2005 by Pamela Dennison. All rights reserved including the right of reproduction in whole or in part in any form. Used by arrangement with Alpha Books, a member of Penguin Group (USA) Inc.
To order this book visit the Idiot's Guide web site or call 1-800-253-6476.