The Positives of Positive Dog Training
Positive training is easy on the dogs, it increases their love of learning (and of you), it gives them a better quality of life, and overall it helps them lead happier lives.
On the other hand, positive training is hard on the trainer (at first) because you have to learn to use your brain (ouch!). It is much easier to yell, scold, spank, hit, and generally get angry, than it is to think, "What did I do to train my dog to act this way and what can I do to get him to stop?"
Thinking Is the Key
When our flawed human emotions come into play, our functioning brain cells disappear. It's hard to stop and reflect when we're emotionally charged. Once you're able to do that, however, train-ing becomes easier and much more fun for you and your dog.
There's no magic answer to becoming more patient; it just takes practice and the sincere knowledge that losing your temper does nothing to help teach the dog anything. In fact, getting angry is more harmful than helpful.
Hand Saw vs. Band Saw: A Gentler Approach Is More Effective
Canine Caveats
If you pay attention only to "bad" behaviors—even with hitting, yelling, and so on—those are the behaviors the dog will continue to do.
Pooch Pointers
You can, in fact, "punish" your dog—and we positive trainers do punish our dogs, but not in the traditional sense of the word. We may withhold a reinforcer, or access to fun, or (horror of horrors) ignore the dog for a few seconds! Omigod! Call out the humane society!
Positive training is more effective for training any species any behavior that they're physically capable of doing. You might say, "But how can not punishing my dog actually be more effective? I have to tell her what she did wrong."
My motto is, if you aren't ignoring the dog (for "bad" behavior), then you're reinforcing it.
If you pay attention to only "good" behaviors, then your dog will continue to do those things that yield her your attention. If you pay attention to both "good" and "bad" behaviors, then you're confusing the heck out of your dog! Because both are being reinforced, the dog will continue to do both.
Or, at the very least, you're nagging the dog with machine-gun Sits ("sitsitsitsitsitsit") or not giving the dog any direction other than "NO!", until she just shuts you out completely. Think about when you're learning something new. How would you feel if every time you goofed, the teacher kept saying "Wrong!" It would get really frustrating, to say the least, and you'd probably end up disliking the teacher or the subject.
The very idea that a dog "escapes punishment" or "gets away with it" is terrifying for some people. Our entire society is so based on punishment that it's hard for us to comprehend how an animal can actually learn better without it. But really, it works because attention is the best thing in the world to a dog (and humans, too). In fact, if you do physically or verbally punish the dog, you run a very high risk of creating much worse behaviors than the ones you started with.
Say that your teacher asks a question and you think you know the response. You raise your hand enthusiastically, blurt out your answer, and oops, you get it wrong. You get smacked for guessing incorrectly. The next time a question is asked you'll sit on your hands and avert your eyes to avoid the possibility of being called on. The rest of the class who witnessed your punishment will also be sitting on their hands.
Doggie Data
Leanne wanted to teach her dog Toby to lie down on his bed while Leanne was eating dinner, instead of mauling her and incessantly begging for food. Using the clicker (find out more about clicker training) and a small handful of treats, we taught Toby, in less than five minutes, to go to his bed when Leanne was eating.
Now for the flip side. The teacher walks in with a huge jar of candy and announces that anyone who attempts to answer a question will get a piece of candy. The students who give correct answers will get a whole handful of candy. More students will try harder, pay closer attention to the lesson, and do their homework more thoroughly and with more enjoyment. This system—positive reinforcement—encourages the students to think! It's more effective to teach dogs' minds rather than manipulate their bodies. You should work with, rather than against, your dog during training sessions. And you should help inexperienced dogs rather than reprimand them.
Seattle Slew: Faster
Positively trained dogs—those who are not punished—will freely offer behaviors in an effort to elicit a good response from their trainers, will grasp information more quickly, and will be able to learn more advanced behaviors at a much earlier age than most other training methods encourage.
Behaviors that take months or years when using punishment-based methods are now taking weeks, days, hours, or even minutes to teach using positive methods.
No Bad Side Effects
Muttley Meanings
Learned helplessness occurs when the dog (or human) just shuts down because nothing she does is ever right, so she just gives up.
You may sometimes hear the phrase "balanced training." There's nothing magical about balanced trainers, other than a nifty catch phrase.
What this means is that the trainer uses traditional, force-based techniques, as well as positive reinforcement when the dog is correct. As discussed previously, this is just confusing to the dog and makes him less likely to offer behaviors. This type of training teaches the dog to possibly work for you to avoid punishment, but it does not teach the dog to willingly work for you. Other dogs may just shut down from the punishment and end up doing absolutely nothing.
Punish your dog for "bad" behaviors and you risk creating aggression, fear, anxiety, learned helplessness, or a stubborn or stupid dog. Sure, you may immediately suppress the "bad" behavior, but that doesn't mean that the "bad" behavior is gone forever. Here are some examples:
The dog might stop eating your socks, but he might start chewing on the wallpaper instead.
Punish your dog for jumping and he might become so afraid of people that he bites instead of jumping.
Punish your dog for doing a behavior wrong and he might become neurotic about trying again.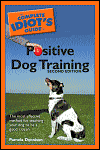 Excerpted from The Complete Idiot's Guide to Positive Dog Training © 2005 by Pamela Dennison. All rights reserved including the right of reproduction in whole or in part in any form. Used by arrangement with Alpha Books, a member of Penguin Group (USA) Inc.
To order this book visit the Idiot's Guide web site or call 1-800-253-6476.