Enable Your Dog to Make the Right Choices
Additional things you may hear from tradition-based trainers: training using positive reinforcement/clickers takes much longer than traditional punishment-based training, and a dog should never be given a choice.
In this age of more things to do in less time, the word "faster" may be a real draw for us. However, when building a relationship, it takes as long as it takes. You can't rush a bond—with dogs or with other people. You certainly can't build that rapport using punishment.
We all make choices in our lives. Sometimes we choose incorrectly. That is called a mistake. Dogs and people trained using positive methods sometimes make the wrong choices, as do dogs and people trained using punishment methods. At times, we all make the wrong choices—humans and dogs—because none of us is perfect. Did you get beaten the last time you goofed? If your dog makes a mistake, lighten up!
Myth: Positive Reinforcement Takes Too Long
Actually, positive methods have been proven to speed up learning. In the beginning stages, it seems to take longer only because you may have to wait a whole five or ten seconds (!) for the dog to think, rather than forcing the dog into position.
However, once you and your dog catch on, clicker training leads to much faster results. (Dogs usually catch on faster than we humans do.) Dogs very quickly learn to perform the desired behaviors in order to make you click! In addition, behaviors learned through positive reinforcement and positive associations tend to stay with the dog for the rest of her life.
Try this simple test to see which takes longer, negative methods or positive methods.
Take a dog, any dog, and set your timer for two minutes.
Using the methods you may have already employed, try to "teach" the dog to walk by your side by jerking on the leash every time she wanders off. (Do me a favor though and please have your dog on a harness for this option—I don't want you to hurt her.)

Now, grab some treats, a longer leash, and reset the timer for the same two minutes. Now become more animated and treat every time your dog either looks up at you or is by your side.
You should see a marked difference in the dog's behavior, not only of staying by your side, but also in her attitude toward the process. You should also feel a difference in your own stress level. Using option one, you may well have felt annoyed, angry, or frustrated. Using option two, you might have felt exhilarated, excited, and happy.
Myth: In Training, a Dog Should Never Be Given a Choice
Clicker trainers set up the situation so that their dogs make the desired choices. Dogs always have behavioral choices, even when they're trained with aversives (corrections and/or punishment). To think they don't is an illusion.
I've seen dogs make mistakes regardless of whether they're trained using punishment or positive reinforcement. I've also seen people make mistakes—sometimes the same ones over and over again.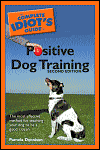 Excerpted from The Complete Idiot's Guide to Positive Dog Training © 2005 by Pamela Dennison. All rights reserved including the right of reproduction in whole or in part in any form. Used by arrangement with Alpha Books, a member of Penguin Group (USA) Inc.
To order this book visit the Idiot's Guide web site or call 1-800-253-6476.