The ABCs of Dog Training
A Is for Antecedent
Pooch Pointers
Every event in our daily lives has an antecedent, behavior, and consequence. The antecedent can be a sign of something pleasant or something punishing.
Canine Caveats
Please don't allow a puppy to do what you won't want her to do as an adult dog. It will only confuse and stress the dog, and annoy the heck out of you.
An antecedent, more commonly called a "cue," is anything that happens before a behavior.
We're surrounded daily by all kinds of antecedents, and we adjust our behavior accordingly. For a person, this can be the red traffic light, a lightning bolt, the alarm clock, the promise of a paycheck, Mom saying "Let's all go for ice cream," or the doorbell ringing. To a dog, antecedents can include a person approaching, the can opener, or seeing the leash coming out. These are all antecedents that tell a person or dog how to react next.
B Is for Behavior
The next step in your ABCs is "B," the behavior—or how you or your dog will respond to the antecedent. The red light tells you to stop, the lightning bolt tells you to run for cover, the alarm clock wakes you up, the promise of a paycheck inspires you to work, "ice cream" is pretty obvious, and a doorbell ringing means answer the door. To a dog, a person approaching means jump up and display submissive behavior, like licking and pawing at the person (unless you've trained him that a person approaching is a cue to sit). Hearing the can opener means run to the kitchen, and seeing the leash coming out of the closet means run to the door to go.
C Is for Consequence
So what happens once you've seen the antecedent and done the behavior? Now comes the "C," the consequence. Stop at a red light and you won't get into an accident or get a ticket. Run for cover and you won't get struck by lightning. Wake up when the alarm rings and you won't be late for work. Pick up your paycheck and you get to go shopping and pay your bills. Again, the ice cream is obvious. You open the door, Publisher's Clearing House is there, and you've won a million dollars (and now you don't have to set the alarm anymore to get up and go to work).
The dog gets attention for jumping (or for sitting), she gets fed after the can is opened, and she goes for a walk after the leash is put on.
The behavior and consequence can also be something good or bad and can change. For instance, if you allow your puppy to bite you when you're playing with him, here's how you've trained your dog:
You get down on the floor (antecedent).

The dog bites you for attention (behavior).

You play with the dog to get him to stop biting you (consequence).
Now the dog is older and you no longer want him to bite you, so here's what you can do:
You get down on the floor (antecedent).

The dog bites you with adult teeth and it hurts (behavior).

You punish the dog by hitting or yelling at him, or you use the proper positive trainer response, which is to get up and leave (consequence).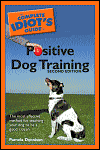 Excerpted from The Complete Idiot's Guide to Positive Dog Training © 2005 by Pamela Dennison. All rights reserved including the right of reproduction in whole or in part in any form. Used by arrangement with Alpha Books, a member of Penguin Group (USA) Inc.
To order this book visit the Idiot's Guide web site or call 1-800-253-6476.