The Main Principles of Operant Conditioning for Dogs
Negative Reinforcement
Negative reinforcement increases a behavior by taking something away that the dog doesn't like. Of course, you must have already added these punishers to be able to then take them away.
Muttley Meanings
Stimuli (the plural of stimulus) are any events that affect or are capable of affecting behavior.
So what starts out as positive punishment can end up being negative reinforcement. The choke collar is yanked and then loosened up when the dog stops pulling. You hit the dog and then stop hitting him when he ceases to jump. The electricity is turned off, and then turned back on after you pay the bill.
As with positive punishment—don't do it!
Negative Punishment
Canine Caveats
Why is the order in which things are associated important? Because if you say "Sit" while the dog is standing and continue to say "Sit," then the dog will learn that "Sit" means to stand. If you want your dog to sit when you say "Sit," then pair the word with the action of sitting.
This sounds like the most awful option, doesn't it? It isn't, though, and in fact is the method of choice that positive trainers use to punish their dogs. I did tell you that I do punish my dogs and this is how I do it.
Negative punishment reduces behaviors by taking away or withholding something good or something the dog will work for. Your dog jumps on you and you walk away, thus withholding the attention she craves. Her jumping behavior will decrease.
Your dog is being pushy and demanding attention. You walk away, denying the dog your attention. The next time your dog will sit politely for attention, reducing the pushy behavior. You ask your dog to sit and she looks at you blankly. You withhold the treat. The next time you ask her to sit, she will sit, reducing the "looking at you blankly" behavior.
You're playing ball with your dog and she brings it back but won't drop it. You end the game. The next time you play ball, she will drop the ball, reducing the "hold on to the ball at all costs" behavior. The bad do bad because the bad is rewarded. The good do good because the good is rewarded.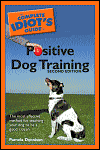 Excerpted from The Complete Idiot's Guide to Positive Dog Training © 2005 by Pamela Dennison. All rights reserved including the right of reproduction in whole or in part in any form. Used by arrangement with Alpha Books, a member of Penguin Group (USA) Inc.
To order this book visit the Idiot's Guide web site or call 1-800-253-6476.