Why Dogs Give Off Calming Signals
Muttley Meanings
A precursor is a sign that something is going to happen. This can be a signal that the dog is getting nervous or a sign that something good is going to happen, such as the rattle of a plastic bag, signifying that a dog treat is coming.
Canine Caveats
We must put dogs and their doggie behaviors into perspective.
Dogs behave like dogs because they're not fuzzy kids with four legs.

Most humans don't understand dog behavior, because we're not naked dogs with only two legs.

Dogs misinterpret our behavior and we misinterpret their behavior.
Doggie Data
Imagine that you brought your child, at eight weeks of age, into the wild and dumped him or her in the woods for a wolf pack to raise. Sounds pretty silly, doesn't it? Well, we're doing the same thing when we bring a puppy into our household. The food is different, the language is different, and the rules are different. We expect miracles from our dogs.
We all possess certain signs or precursors that signify "I won't hurt you; I am a nice wolf/dog/person." We must learn to inhibit our aggression—otherwise the pack will not survive. If there were no stopgaps, we'd all just kill each other and die out as a species.
In this country, making direct eye contact and reaching out to shake hands are seen as proper greeting behaviors. If someone refused to look at you or shake your hand, you'd feel uncomfortable or possibly suspicious. In other countries, direct eye contact and shaking hands might be perceived as a threat or the height of bad manners.
Just as people from different cultures don't always understand each other's signals, people have trouble interpreting the signals that dogs give out. Dogs do in fact have a language, and I promise you, it isn't English.
Understanding Your Dog's Precursor Signs
Get rid of any notion that your dog feels guilt, shame, and the like. Why? Because dogs are dogs! These are human emotions and dogs are a different species. However, dogs do have a very strict system of manners with fitting responses.
We humans are, for the most part, clueless regarding these behavioral responses because we're not dogs. We have this persistent misconception that apparently is difficult to let go of—that dogs are really people in disguise. An inability to communicate effectively with dogs is the overwhelming cause for almost every canine "behavior" problem. It's really a human problem, not a dog problem.
In doggie land, communication is accomplished through a series of complex sounds, facial and body movements, and scents. The combination changes all of the time and the meanings are different each time. If the first sequence of signs is ignored, they will increase in severity, and additional behaviors will appear.
For instance, a child or adult is doing something that the dog regards as threatening. The dog may signal, nonverbally at first, that he's not happy with your behavior. The adult or child doesn't notice and continues to pressure the dog.
The dog may use additional nonverbal signals and is ignored again. And again. The dog's signals may now include some verbal noises, such as a low growl. If the warnings are continually ignored, and the dog has been unable to make his point politely (within his own frame of reference), the dog's signals will escalate into lifting his lip, snarling, showing teeth, and snapping or biting.
These types of behaviors that seemingly came "out of nowhere" didn't come out of nowhere—you just weren't paying attention. The ABCs of Dog Behavior may help you understand this concept.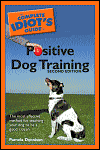 Excerpted from The Complete Idiot's Guide to Positive Dog Training © 2005 by Pamela Dennison. All rights reserved including the right of reproduction in whole or in part in any form. Used by arrangement with Alpha Books, a member of Penguin Group (USA) Inc.
To order this book visit the Idiot's Guide web site or call 1-800-253-6476.