Setting Your Dog Up for Success
Doggie Data
Louise came in with her dog Teddy, with her arms bloody and scratched. Teddy didn't like petting at all and would tell her so in a not-nice way. After one week of working with Teddy, he allowed Louise to pet him. We taught him to enjoy petting by pairing a light touch with treats. After the second week, Teddy was actively enjoying having Louise pet him. (See more about the Premack principle.)
Canine Caveats
If you continually use the dog's name, you become "white noise" and much easier to ignore. If you say your dog's name and she doesn't respond instantly, do not say it again! Do something different.
Pooch Pointers
What else can you do to ensure that your dog grows up with a healthy attitude in this complex world we live in? You can educate yourself, your family, and your friends about canine behavior and body language. You can get the pups out and about, as much as possible, from the time they're eight weeks old, always moving at their pace and their comfort level. You can teach your puppies manners and acceptance of the human species they now live with. You can always observe, watch over, and listen to your dog—in his or her language.
If your dog shows signs of fear or nervousness, don't set him up to be fearful. Limit his access to the feared objects, and slowly, methodically go in closer while reinforcing for calm behaviors.
Eeek! A Plastic Reindeer!
If your dog is nervous about inanimate objects—swing sets, rowboats, plastic reindeer, and the like—don't laugh; just stand still while he makes a fool of himself. You can place treats all around the object and let the dog move closer at his own pace.
If your dog is nervous about having company over, put her in a separate room until you can take the time to train her to accept company. If your dog jumps on people coming to the door, put her on leash while you open the door and reinforce her for sitting. If she has problems with kids and bikes going past the picture window, close the curtains.
Please Teach Me to Like Head Petting!
If your dog doesn't like petting on the head (99 percent of all dogs don't like it), then, until you train him to like it, don't pet him on the head. Think your dog does? Try this test: call him over to you and pet him on the head. If he avoids your touch, ducks his head, moves away completely, or moves his head toward your hand (as if to bite—even without a show of teeth), well, guess what? Your dog is part of the ninety-ninth percentile and is completely normal.
Can we teach our dogs to accept inappropriate behaviors from strangers, and inappropriate handling by veterinarians? Of course we can, and we must! It's important to remember, though, that dogs don't naturally like certain behaviors and we should view them as we would view any behavior that isn't natural for a dog—train them! Specific guidelines for teaching your dog to accept handling are addressed in Petting and Handling Dogs.
Until you can take the time to train your dog to accept the human world in all its complexities, manage the situations as best you can so that your dog doesn't practice nervous or fearful behaviors. After all, practice makes perfect, whether the behavior is "good" or "bad."
Get Your Dog's Attention
When you want to attract your dog away from something else more interesting, think like prey. Dogs are attracted to movement because they're predators! Here's what to do:
Your body posture should be low to the ground and you should approach sideways. Be careful not to loom over the dog because this is perceived as aggressive. You can lean backward, wave your arms, wiggle your fingers, or run away.

Avoid direct eye contact or give a sideways glance.

Use a high-pitched, excited, squeaky voice, or even a whistle. Loud, deep voices do the opposite—they repel dogs.

Move side to side or away from the dog—the faster the better. Move right and left—act really exciting!

Play with whatever toys your dog really likes.

You can do some mild roughhousing with the dog to energize, but not to overstimulate her.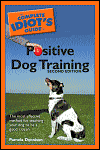 Excerpted from The Complete Idiot's Guide to Positive Dog Training © 2005 by Pamela Dennison. All rights reserved including the right of reproduction in whole or in part in any form. Used by arrangement with Alpha Books, a member of Penguin Group (USA) Inc.
To order this book visit the Idiot's Guide web site or call 1-800-253-6476.