Getting Started with Dog Training
Before any training can start, your dog needs to know a few things. You need to make the click sound valuable and meaningful, and you need to teach him that eye contact with you, and hearing his name and "Come," are worth a million bucks. You cannot train a dog if he is not focused on you. Well, you can, but then you'd be using choke, prong, and shock collars, and that is not why you chose positive dog training!
First Things First
First of all, start your session by priming the clicker to remind your dog that "click" means food. Count out at least 60 treats and, with the dog in front of you, follow these steps:
Click the clicker.

Hand your dog one treat within a half second after the click (this is the optimum timing—after three seconds the dog won't make the proper association that click means food).

Repeat for at least two minutes.
You shouldn't have to do this for more than two minutes. If your dog doesn't make the connection right away, don't think that you have a lemon—just do it longer. Some dogs may be nervous about strange new noises, so just in case your dog is one of those, put the clicker in your pocket to muffle the sound at first.
Look into My Eyes: Eye Contact
In the same training session (after priming the clicker) you are now going to teach the dog to stare at you adoringly. Without eye contact, you can't teach the dog anything, so logistically, this is the next step in training.
Again, have a handful of treats ready and the dog in front of you. Now follow these steps:
Wait for eye contact. Your dog will probably mug your hand, so, if needed, put your hands behind your back. Keep your eyes on your dog and just wait silently.

Be ready to click and treat. Usually after three to ten seconds, your dog will accidentally look up at your face.

Stand still and wait again. The next time your dog looks at you, click and treat. On average, it takes dogs two to three minutes to figure out where the "magic button" is (looking at your face).
Repeat for a minute or two every day for two weeks and then a few times a week for the rest of the dog's life. If you have noticed, I haven't asked you to name this (eye contact). That is because it isn't necessary. Just train for it and your dog will be boring holes in your head automatically. If you name it, the dog will only look at you when you say your "look at me" cue.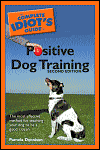 Excerpted from The Complete Idiot's Guide to Positive Dog Training © 2005 by Pamela Dennison. All rights reserved including the right of reproduction in whole or in part in any form. Used by arrangement with Alpha Books, a member of Penguin Group (USA) Inc.
To order this book visit the Idiot's Guide web site or call 1-800-253-6476.