Getting Started with Dog Training
My Name Is "No, No, Bad Dog!"—What's Yours?
Canine Caveats
You can very easily train your dog to ignore his name. Say that your dog is out in the yard and you want him in the house. You call his name. He ignores you. You continue to call his name repeatedly. Each time you yell it louder and louder and louder, hoping that if you scream his name at the top of your lungs, he will finally answer you. Guess what? He won't, and now he'll ignore his name whenever you use it. You can even do this with "Come" as well! Yippee!
Does your dog know her name? Or if she does, does she think that hearing her name is a bad thing? The fastest, easiest, most surefire way to teach your dog that her name is valuable and something to respond to instantly, is this (again, borrowing from Pavlov—name means reinforcement):
Have a few treats in your hand or pocket.

When the dog gives you eye contact, say her name.

Then click and treat.
Repeat for five to ten minutes every day for two weeks and then a few times a week for the rest of the dog's life.
In the beginning stages, be sure you don't use the dog's name to get her to look at you—say her name after she looks at you. After a day or two, you should start to see the dog get whiplash looking at you when you say her name.
Pooch Pointers
You can even make your smile into a marker signal. I do this because I can't bring food into the obedience ring, so I use a smile as a reward. If the judges ever make us wear paper bags over our heads during competition, I'm in big trouble.
In the beginning stages, if you can't get your dog to respond, whoop and holler in glee and run the other way. Ninety-nine percent of dogs will run after you. Chasing the dog will only drive her farther away from you. Until you have a strong name response and "Come" cue, don't let the dog off the leash.
To continue to keep eye contact strong, every time you say the dog's name and she responds, reinforce her! "Good! You responded when I said your name! Brilliant doggie!" Be sure to heavily reinforce, especially when there are distractions around—then really go crazy and make her think that she won a million dollars worth of treats at a slot machine.
Dogs Don't Naturally Know What "Good Dog" Means
To drive up the value of your praise words (remember, these words are not naturally reinforcing for your dog), pair the words with food. You don't have to click for this one. You're turning your praise words into a marker signal—just as you did with the clicker.
To make your words into reinforcements, follow the preceding steps for priming the clicker. Say your praise word(s)—"Good dog," "Wahoo," "Yippee," "Excellent," and so on—and then treat within a half second. If you use many different ones (as I do), then say one word per session.
Because we talk to and around our dogs, and dogs are not a verbal species, speech tends to become white noise to them. You need to do this exercise for more than two minutes (as we did with the clicker). Continue to pair the praise word with food a few times per day for a few weeks.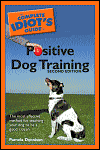 Excerpted from The Complete Idiot's Guide to Positive Dog Training © 2005 by Pamela Dennison. All rights reserved including the right of reproduction in whole or in part in any form. Used by arrangement with Alpha Books, a member of Penguin Group (USA) Inc.
To order this book visit the Idiot's Guide web site or call 1-800-253-6476.