Steps to Socializing Your Dog
The optimum time for early socialization is 8 weeks to 20 weeks. Any time after that and you'll be dealing with counterconditioning and desensitization because you've lost your window of opportunity.
Muttley Meanings
Socialization involves the controlled introduction of various situations and things so that the dog develops positive associations with them.
Everyone says that you should "properly socialize" your new pup, but no one tells you exactly how to go about it. Because socialization is so vitally important to your dog's future mental and emotional well-being and outlook on life, it's imperative to start your new pup off on the right paw. Please be aware that "early" doesn't mean "only." If you "only" take advantage of early socialization and then think you're done—you're not. Socialization can (and should) start as early as eight weeks and should continue until the dog is two years of age.
As your puppy gets older, she will develop new fears. One day she'll be fine with something or someone, and the next day she'll be terrified. These are called fear periods.
Pooch Pointers
There will come a time when you'll need to board your dog (at a reputable kennel, please—get many references and check them out). Don't wait until you're actually going on vacation to teach the dog to like the kennel. Start by leaving him for an hour with yummy treats and plenty of chew toys. Repeat many times, gradually increasing the time he stays in the kennel. If an hour is too much for your pup, start at five minutes and slowly build the duration of time that he can be without you comfortably.
The typical ages for fear periods are 8 to 10 weeks of age, then 16 to 20 weeks, at approximately 6 months of age, and again around 10 months of age. Fear periods return at around 14 to 18 months. It's vital that you don't laugh at, scold, or comfort the dog during fear periods. Keep them relatively isolated during these times and introduce them to nothing new. They are vulnerable during these fear periods, so by all means, keep them home and safe for a week or so. You'll know when they come back to normal and you can then resume taking them out and about. Ignore and wait for calm behaviors that you can then reinforce. If you pressure a puppy during a fear period, she will have that fear for life.
Some people may think that socializing a dog means indiscriminately dragging her around to new locations or having strangers walk up and invasively pet her. This method of "socialization" may very well lead to behavior problems later, such as fear or aggression. Proper socialization is actually a controlled introduction of various situations and things so that the dog develops positive associations with them.
Socialization is about exposing your puppy and adolescent dog gradually and systematically to different types of people, places, things, surfaces, noises, touch (from you and strangers), other dogs, and other species of animals. Socialization is all about setting the dog up for success—introducing her to each new situation in such a manner that she won't be afraid. The goal is to build confidence and trust.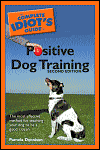 Excerpted from The Complete Idiot's Guide to Positive Dog Training © 2005 by Pamela Dennison. All rights reserved including the right of reproduction in whole or in part in any form. Used by arrangement with Alpha Books, a member of Penguin Group (USA) Inc.
To order this book visit the Idiot's Guide web site or call 1-800-253-6476.