Steps to Socializing Your Dog
Socialization Can Be Stressful
Canine Caveats
We have all experienced children and adults coming up to our dogs and wanting to pet them. In this litigious society, it's important to get in touch with your pet's state of mind when you expose her to others. It's also important to teach strangers the correct way to approach your dog.
The most important aspect of training is the detection of signs of stress and fear in your puppy. If you don't recognize these signs, you may be pushing the dog into a situation that he can't deal with and may be creating more fear, aggression, or anxiety about a specific place/person/species. (See Watching for Signs of Stress in Your Dog. )
If your dog exhibits any of these signs, this may be an indicator that you have pushed your socialization session too fast or for too long.
Places for Socialization
What will your dog have to feel comfortable with during his lifetime? He'll visit the veterinarian and groomer, where strangers will handle him in sometimes very uncomfortable ways. You'll want to take your dog to the park, new and different places, and in and out of strange doorways. You'll also want him to be comfortable going to the kennel. He'll also need to feel comfortable with strangers coming into your house.
The dog will need to feel comfortable walking on different types of surfaces such as concrete, gravel, linoleum, carpet, wood or tile floors, grass, snow, puddles, mud, and ice. You need to build his confidence in going up and down all different types of stairs, jumping into the car on his own (especially useful if you have a large-breed dog), riding in the car, and walking along a busy street. Your dog needs to get used to seeing or hearing men in hats or with beards, people in wheelchairs, kids on skateboards, umbrellas, babies crying, kids playing, bicycles, loud music and other sounds, cars driving by, other dogs—the list is endless!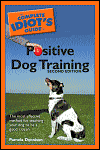 Excerpted from The Complete Idiot's Guide to Positive Dog Training © 2005 by Pamela Dennison. All rights reserved including the right of reproduction in whole or in part in any form. Used by arrangement with Alpha Books, a member of Penguin Group (USA) Inc.
To order this book visit the Idiot's Guide web site or call 1-800-253-6476.