Petting and Handling Dogs
For the very young pup, you can slather something gooey (like peanut butter or cream cheese) on the refrigerator and let him lick it while you gently brush or pet with a light stroke. Stop before he's done licking. You can do this in the bathtub as well. Get him used to all different kinds of things as early as possible.
Using the five steps of the "basic recipe" listed previously, continue to do these exercises. Place your hand gently along the side of the dog's face. Once he's comfortable with that, you can add in head touching and then slowly add in each body part: ears, tail, face, back of his neck and shoulders, each leg, foot, and toe, gums and teeth. If you have a breed of dog that will need regular grooming (not just a bath), you will have to do some extra things. For instance, if your dog has a beard, be sure to teach him to accept your holding his beard. If your dog has hair that will grow over her eyes, you'll need to teach her to accept scissors coming toward her eyes. For this one, use your finger first, then a pencil, and then scissors. Groomers are people, too, and don't have magic wands to miraculously make your dog into a pleasure to groom. Practice these things, and your groomer will thank you!
Canine Caveats
I mean it. If you're nervous, squeamish, or not sure exactly where the "quick" (the blood supply to the nail) is, don't even try to clip your dog's nails. You can see the quick more easily on a dog with white nails. If your dog has black nails, you'll be working blind.
Repeat these exercises a few times per day for a few weeks, touching all body parts gently. Once he likes gentle petting, you can gradually add rougher petting. You can even teach the dog to accept pinching (which is a similar sensation to getting an injection), by using this method.
Be careful and go slowly. If you let go, you are reinforcing the struggling. If you don't let go, you may freak him out. The best course is to go slowly enough so that the dog likes being handled. Redirect with a treat if needed. The key here is to slowly build up to complete body touching so that the dog wouldn't even think about moving away.
This may take quite a few sessions depending on how sensitive your pup is to handling. Don't rush, and don't get angry—these emotions will get you in trouble later.
If you decide that you want to clip your dog's nails yourself, just cut off the tip of them at first. If you're nervous at all—just one iota of nervousness—do not, I repeat, do not clip your dog's nails. All it takes is one "Oh my god, I made you bleed!" while you run around screaming hysterically, to turn your dog into a toenail demon. You can still teach the dog to accept this and leave the actual clipping to a professional.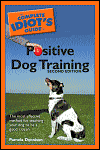 Excerpted from The Complete Idiot's Guide to Positive Dog Training © 2005 by Pamela Dennison. All rights reserved including the right of reproduction in whole or in part in any form. Used by arrangement with Alpha Books, a member of Penguin Group (USA) Inc.
To order this book visit the Idiot's Guide web site or call 1-800-253-6476.