Introducing Your Dog to New Things
When introducing your dog to "stuff," be sure to do it gradually. After all, drainpipes may be out to murder you! The best way to handle introductions is to be passive and ignore all but calm reactions to things. If the dog is terrified of a piece of paper, don't laugh, don't comfort, and don't scold. Just stand there quietly—you can laugh hysterically later—and then reinforce calm behavior.
Go through your list of "things my dog needs to get used to" systematically and carefully, and you will have a nice, well-grounded puppy who grows up into a nice, well-adjusted adult.
Food
You must, I repeat, must teach your dog to be calm around food—his and yours. You don't want your adorable puppy ending up ripping off some kid's face because he wants the kid's cookie, or growling and snapping as your child passes by your dog's food bowl while he's eating.
I'm not saying that you should forcibly take things out of your dog's mouth—that will only teach him that he needs to guard food and toys because you're going to take things away from him. There are simple ways to teach him that giving up food and objects is to his benefit. Follow these steps:
Pooch Pointers
Taking the treat to him is vital—you don't want him to forage for food, and you want to reinforce the "Stay" position.
Have the dog in a "Stay."

Drop a piece of food on the floor while reminding the dog to "Stay."

If he "Stays" for even a second at first, click and then take the treat to him, reinforcing the "Stay."

If the dog breaks position at any time, say nothing; just step on the food (if you're fast enough). If you aren't fast enough, just try again.

Continue to do steps 1 to 3, having him "Stay" for longer periods of time before taking the treat to him.
Once the dog is doing well with one piece of food, add a few more until you can drop wads of food on the ground while he continues to "Stay" and give you eye contact.
Canine Caveats
Please don't think that these behaviors aren't important "because my last dog didn't have any of these issues." It's 10,000 times easier to teach proper behavior from the beginning than to try to fix it later after a problem surfaces.
The next step is calling the dog away from dropped food:
Drop food on the floor. (Don't drop it where the dog has to pass it to get to you.)

Move away from the food and your dog.

Call the dog.

Heavily reinforce the dog for coming to you with 10 times the amount of food he left behind.
You can even run away while calling, or cheat the first few times and use squeaky toys to help the dog be successful. If the dog isn't successful, don't worry about it—no reprimands, no body blocking (putting your body between the dog and the food); just try again.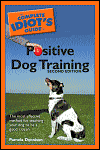 Excerpted from The Complete Idiot's Guide to Positive Dog Training © 2005 by Pamela Dennison. All rights reserved including the right of reproduction in whole or in part in any form. Used by arrangement with Alpha Books, a member of Penguin Group (USA) Inc.
To order this book visit the Idiot's Guide web site or call 1-800-253-6476.