Why Dogs Pull
Doggie Data
Did you know that a dog has 20 to 40 times more olfactory receptors than a human? Some dogs can find bodies, dead or alive, by following scents of shed skin flakes, sweat droplets, and scent mists for as a long as 105 hours and as far as 135 miles. Many dogs can also "fore-smell" seizures in humans and detect skin-cancer cells.
You want to peacefully walk your dog, but your dog all of a sudden picks up a scent and takes off at warp speed. Your walks have become a nightmare and you almost wish you could untrain his housetraining because cleaning up messes on the carpet would be easier than walking him.
You sweat, you yank back, in desperation you use a choke or prong collar, you curse and scream. Finally, you declare your dog stupid, stubborn, willful, disobedient, or even dominant. What has actually happened is that you've systematically trained your dog to pull on the leash. Congratulations! You did it! You learned how to activate his opposition reflex, and you taught him that to get where he wants to go, he has to pull you down the street.
Dogs do not pull to drive you insane, nor do they pull "because they can," and they truly haven't been up all night, scheming in their devious doggie minds how to annoy you to death by giving you whiplash. Really.
However, there are very specific reasons why dogs pull on the leash and do a great imitation of dislocating your shoulder.
Because We Follow
Canine Caveats
A dog can be easily taught to "blow you off." This is effortlessly accomplished by continually calling her name eight zillion times when she's obviously engaged in some sort of hunting behavior and has no intention of responding to you at that time. Your dog really isn't blowing you off; she just has her own agenda at the moment. The solution is to build your relationship so that your agenda becomes your dog's agenda.
The number-one reason why dogs pull on the leash is this: because we follow. Behavior is reward-driven. If choking himself gets him what he wants—to move forward in any direction he so chooses—then guess what? He'll continue to pull.
Pulling on the leash then becomes a learned behavior, and a very strong one at that. "Fanatical" and "overzealous" are words that can be used to describe many dogs' leash-wrenching techniques, as they perfect their performance.
Of course, they want to make us happy. "You like it when I pull a little, so you should like it even better when I pull a lot." So what starts out as a little pulling can quickly become a "run for your money, might as well wear roller blades" event because "more is better," right?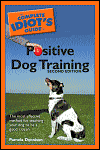 Excerpted from The Complete Idiot's Guide to Positive Dog Training © 2005 by Pamela Dennison. All rights reserved including the right of reproduction in whole or in part in any form. Used by arrangement with Alpha Books, a member of Penguin Group (USA) Inc.
To order this book visit the Idiot's Guide web site or call 1-800-253-6476.