Why Dogs Pull
To Get to the Other Side
The number-two reason why dogs pull on the leash is to get to the other side. There are actually two parts to this. Number one, the outside world is an exciting and wonderfully smelly place for a dog. It is a veritable smorgasbord of scent. And number two, the dog forgets that we exist.
Scent is extremely important to a dog—after all, they're predators. Yes, even a Maltese or Miniature Poodle. Dogs process a great deal of information about their world through their noses. We've all seen our dogs sniff one single blade of grass for 15 minutes and think that this is a bit excessive. However, it's not without meaning for a dog. He finds out who was here and when, who is in season, and how many bitches and how many males have been there.
Part two of "getting to the other side" is this: the dog has completely forgotten that we exist and we are no more important than a speck of dust. There are many reasons for this seeming lack of respect. Most people train their dogs in the living room and never "take it on the road." They're then shocked and dismayed that their dog "blows them off" once outside.
The biggest challenge we all come up against is to be more interesting and reinforcing to our dogs than the environment. Whether you're doing pet training or competition training, or whether you're a first-time dog owner or an accomplished dog trainer, becoming more fascinating than the environment continues to be a challenge.
Doggie Data
All animals, including humans, have an opposition reflex. It's a natural action that we can't control. When the doctor taps your knee with that little hammer and your leg jerks, you have no control over that response. Think about it. One person bumps into another person. That person pushes back, perhaps harder. Tempers flare, and voilà! Instant bar brawl.
That challenge can be drudgery or it can be fun, enlightening, and immensely rewarding if you have the right attitude. The key here is one of the basics of positive dog training: the relationship between you and your dog. There are many facets to building a bond with your dog. Associative learning—making sure fun things happen around you at all times—tops the chart. Also up there are having patience at all times, manners training, and being variable and unpredictable in when and how you reinforce your dog.
The Opposition Reflex
The number-three reason why dogs pull on the leash is this: because we activate their opposition reflex, which causes them to pull against anything that's pulling against them.
Try this test. Have someone stand next to you. Push on that person's arm. If that person doesn't want to fall, that person will push back so that he or she isn't knocked over. Now pull on the person's arm. If the person doesn't want to be yanked toward you, he or she will pull back.
To teach your dog how to loose-leash walk--instead of pull--see
Building an Outdoor Relationship with Your Dog
.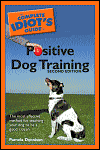 Excerpted from The Complete Idiot's Guide to Positive Dog Training © 2005 by Pamela Dennison. All rights reserved including the right of reproduction in whole or in part in any form. Used by arrangement with Alpha Books, a member of Penguin Group (USA) Inc.
To order this book visit the Idiot's Guide web site or call 1-800-253-6476.