Building an Outdoor Relationship with Your Dog
Pooch Pointers
If the dog doesn't notice that you exist, ask yourself questions such as, "Are the distractions too much for my dog to handle at this time in his training?" "Did I go from the living room to the football game in one step?" "Was I distracted or not in the mood?" Always set the dog up to succeed and he will!
Canine Caveats
You must establish this very simple foundation—getting and keeping your dog's attention—before moving on to the next step. Try loose-leash walking without it and you'll get tight leash pulling.
The first step to loose-leash walking is building your relationship outdoors. This isn't hard, but it does take some forethought. You have to teach your dog that there is "no such thing as a free lunch." After all, we have to work for a living, and the dogs should, too.
Attention, Please!
Before teaching any behavior outdoors, you must build your relationship and get the dog's attention. Follow these steps—hand-feed your dog most of her intake of food for behaviors rather than for "free" in her bowl, and "her wish is your command":
Take your dog's daily ration of food, put it in your pockets or pouch, and go outside.

Work on eye contact, name recognition, "Sits" and "Downs," and anything else your dog may know how to do at the moment. (For more details, see Getting Started with Dog Training.)

If your dog is too stimulated by your yard, just wait. Bring a book if you have to and just sit on the porch. Whenever she gives you some kind of attention, reward it.

If, after about 10 minutes, she still hasn't noticed that you exist, put her back in the house and in her crate for a few minutes and try again later.
Continue to do this for a few days—feeding for attention and simple behaviors. Now move to a new location and start all over, waiting patiently for attention and simple behaviors. Every few days, move to a new location and repeat all of the preceding steps.
The dog has to know that you aren't a dead tree stump. After about one to two weeks of practicing in about five to seven spots, you'll be ready to start training for loose-leash walking.
Moving Backups
Pooch Pointers
By "asking for eye contact," I don't mean that you should say your dog's name repeatedly or say "Watch." Do this right and your dog will automatically look at you. Just wait for eye contact, click and treat, and then move back a few more steps.
Canine Caveats
Some dogs are successful with this game within a few minutes and some dogs take hours to stay around their owners. If your dog is one of the few who won't focus on you, please don't be angry. Just backtrack and work on more focus at home first.
This is the first step to loose-leash walking/heeling. This also teaches the dog to pay attention to you while you're both moving. Dogs think about what they're looking at, so if they aren't looking at you, then guess what? They aren't thinking about you, either.
Follow these steps:
Get your dog's attention and take a few steps backward. Click and treat if the dog follows you. You're not looking for eye contact yet—you just want him to follow you.

Don't lure your dog with cookies—have your hands down by your sides. If the dog mugs your hands, put them behind your back.

Take a few more steps back and click and treat every few steps.

Gradually increase the number of steps you back up before clicking and treating. Now you can wait for eye contact before you click and treat.
If your dog looks away, you can either …
Continue to back up and click and treat when he comes back into position.

Stop moving and wait for the dog to reengage with you (by giving you eye contact); then continue to back up and then click and treat.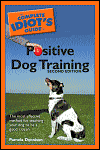 Excerpted from The Complete Idiot's Guide to Positive Dog Training © 2005 by Pamela Dennison. All rights reserved including the right of reproduction in whole or in part in any form. Used by arrangement with Alpha Books, a member of Penguin Group (USA) Inc.
To order this book visit the Idiot's Guide web site or call 1-800-253-6476.