Training Your Dog to Stay
Many people use just one word—"Stay"—to mean a few different things. I like using two words: "Stay" and "Wait." To me, they have different meanings. "Stay" means "You stay there until I come back to you." "Wait" means "Wait there until I give you another cue." If you feel more comfortable using just one word, that's not a problem as long as you're clear in your direction. Do what you'll remember and what you'll be consistent with.
Two important uses of the "Stay"/"Wait" are to have the dog go to her mat and "Stay" there, and to "Wait" for dinner.
Go to Your Mat!
Let's teach your dog to go to his mat. You may not think this is any big deal and that your dog doesn't need to know this, but it can be a useful behavior.
If your dog is bugging you and you're busy, you can tell him to go to his "Mat," "Bed," or "Place"—whatever word you want to use. For dogs who have been reinforced for begging at the table, this is great to use. Basically, this is "target training." You're teaching your dog to "target" the mat and lie down on it and stay there. Follow these steps:
Have a mat or bed set up.

Sit in a chair about five feet away.

Throw cookies onto the mat and don't say anything yet.

As the dog steps on the mat, click and throw some more treats.

Repeat this about 24 times.

If the dog goes back to the mat of his own accord, click and throw treats. (We're now getting the behavior, and then rewarding, rather than "luring" the dog onto the mat with the treats.)
At this point you still won't say anything to the dog. Get the full behavior, and then give it a name. Dogs aren't really listening to us, anyway, and do better if we're quiet and let them think.
Doggie Data
My dog Cody taught me (without speaking one word of English) that by staring in the direction I want a dog to look, he'll turn his head that way. After I gave each of my dogs a bone, Cody came up to me after about 10 minutes, whining and turning his head repeatedly. I normally ignore him when he whines because I don't want to reinforce whining. However, I did glance at him out of the corner of my eye and realized he was looking at Beau and then back to me. Beau had stolen Cody's bone and he wanted me to get it back for him. Try it sometime—it is just too cool! And you never know, you may just find a use for it someday.
Now stop throwing cookies onto the mat. Look at your dog. Once he has also engaged your eye contact, look at the mat. Look at his face again and then look at the mat. If he looks at the mat or goes over to the mat, click and throw the treat on the mat. If he doesn't move, look at him again and then stare at the mat. For any movement toward the mat, be it head or body movement, you should click and throw cookies onto the mat.
Take the tape off of your mouth now—you can start talking! Follow these steps:
Once your dog goes to the mat either on his own or with the help of your eye, as he steps on the mat, say, "Go to your mat/place/bed" (whatever you want to call it).

Then click and treat the behavior.

Repeat this about 10 times.

Then do a test. When he's off the mat, say, "Go to your mat" and wait—see what he does.

If he goes to the mat, click and jackpot. If he doesn't, just backtrack.

Once your dog goes to the mat on a regular basis, go to him (because you're at least five feet away) and lure him into a "Sit" and then a "Down" and reward the "Down." I ask you to go to him because if you're any real distance from him, he'll get off of the mat and come to you to "Sit" and "Down." So you need to teach him to work away from you for this exercise, which is why you have to either lean forward or move forward to help him in the beginning.
Very quickly, your dog will, upon hearing you say, "Go to your mat," go to the mat and lie down. Now you have to build distance, duration, and changing location.
Changing location is great to work on—move the mat to different parts of the house and yard. Wouldn't it be great to go to a softball game, bring your mat, and ask the dog to go to her mat and she does it! And stays there! And doesn't annoy the other people there! Wow!
You'll also need to build distance. Let's say you're in the kitchen and the mat is in the living room. Your dog wants attention, but you're talking on the phone and cooking dinner and you're transferring hot things from the stove to the table—not a good time for your dog to decide "It's playtime!!" That's a perfect time to tell your dog to go to her mat.
When building distance, be sure to move away from the mat only a few feet at a time. Just as when you were teaching "Stays," building distance slowly is important to the success of the behavior.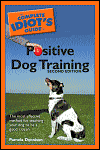 Excerpted from The Complete Idiot's Guide to Positive Dog Training © 2005 by Pamela Dennison. All rights reserved including the right of reproduction in whole or in part in any form. Used by arrangement with Alpha Books, a member of Penguin Group (USA) Inc.
To order this book visit the Idiot's Guide web site or call 1-800-253-6476.