Training Your Dog to Stay
Waiting for Dinner
Waiting for dinner may not seem like a behavior you'll need, but it's an excellent and simple way to introduce the word "Wait" into your dog's vocabulary. I like it because it teaches self-control to the dog so that she doesn't get pushy and forceful around food.
Canine Caveats
Pushiness around food or toys is not acceptable behavior. Many people misinterpret this behavior as being dominant, when in fact it's just the behavior of an untrained, spoiled dog who was probably reinforced in the past for being obnoxious.
Follow these steps:
Put a few pieces of food in a bowl on the counter.

Ask the dog to "Sit."

Start to put the bowl on the floor.

If at any time she moves out of position, take the bowl away.

Remind the dog to "Sit" again.

Repeat steps three and four. Don't add the word "Wait" yet—again, silence is best. Get the behavior first—then name it. After a few repetitions of steps three and four, you won't even have to remind the dog to "Sit" again—she will most likely fix herself.

Once the dog waits for even one second, click and release her to the food bowl.

As soon as she waits for two seconds, you can say the word "Wait."

You can increase the "Wait" time to be as long as you wish.
This easily transfers to "Wait" in the car, in the crate, or at the door, all of which may just save her life one day. "Stays" can be boring to teach, but the benefits are enormous, so please don't skimp on training them.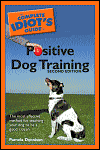 Excerpted from The Complete Idiot's Guide to Positive Dog Training © 2005 by Pamela Dennison. All rights reserved including the right of reproduction in whole or in part in any form. Used by arrangement with Alpha Books, a member of Penguin Group (USA) Inc.
To order this book visit the Idiot's Guide web site or call 1-800-253-6476.