When Your Dog Makes a Mistake
Doggie Data
You'd be surprised at how many people actually believe their dogs are human and are born knowing household "rules." Dogs don't perform "bad" behaviors for spite, out of guilt, to get back at you, or for any other reason you may think up. Dogs do these things because you've either set them up to fail or because you've reinforced the dog for doing them.
Setting the dog up to be right is key here. It's counterproductive, not to mention silly, to set the dog up to fail and then get angry at him for failing.
Being frustrated is normal, and taking it out on the dog is easy. Your dog doesn't speak English and sometimes that makes training hard. However, there are easy answers.
Administration or Management
If your dog eats your shoes, put them away! If your dog gets into the garbage can, find one with a locking lid. If you know a certain stimulus upsets or overexcites your dog, use better judgment in introducing the stimulus to your dog. Then work on desensitizing your dog to it.
Don't wait for something "bad" to happen—stop the behavior before it starts. Practicing "bad" behaviors does no one any good. Plus, it might make you angry and you may do something that you'll regret in the morning. After all, you would baby-proof a house, and you should doggie-proof it as well.
Aid
Give the dog an easier version of the behavior you're working on that she can solve successfully: shorten the time, distance, duration, or complexity.
For instance, let's say you're teaching your dog to "Stay," and you've built up to one minute in an area that has no distractions. Good job! Now you go to the ballgame, which is much more diverting than your empty living room. Don't ask your dog to "Stay" for one minute—she won't be successful. Try for three seconds to start, and build slowly back up to one minute.
Antecedent
Doggie Data
Just for the heck of it, I decided to train my dog Shadow to move to the right, left, and back away from me, using my eyes only (with no head turns) as a cue. That's how small our signals can be and how extremely sensitive dogs are to our body language.
Give the dog some clear, intermediate helper cues so that she can understand more clearly what it is you want. This can be a verbal reminder cue, "Stay," or an additional hand signal. The key is not to do rapid-fire reminder cues—then you get stuck in the rut of "Sit-Sit-Sit-Sit-Sit" and sound like a machine gun. Dogs don't speak English, but they sure can count! Don't confuse them even more when your task is to help them.
In addition, be sure that your cues are consistent and accurate. If sometimes you call your dog to "Come" and you're standing up straight, and sometimes bending over, or sitting, or kneeling, you'll have one very confused doggie. If your cue for "Down" is normally a raised hand like a traffic cop but one day you just raise your hand high in the sky, don't be surprised when the dog looks at you blankly.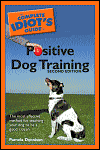 Excerpted from The Complete Idiot's Guide to Positive Dog Training © 2005 by Pamela Dennison. All rights reserved including the right of reproduction in whole or in part in any form. Used by arrangement with Alpha Books, a member of Penguin Group (USA) Inc.
To order this book visit the Idiot's Guide web site or call 1-800-253-6476.