Dog Training: Repeat, Redirect, Recreation, Restrain
Watch and listen to your dog. If you pay attention to what she is telling you, most of the time you can come up with an easy solution. If you have a good relationship with your dog, she really does want to do what you're asking her. If all of a sudden she looks at you blankly, please don't assume that she's stupid.
Repeating the Cue a Second Time
Try one more time by using clearer cues, such as a hand signal. Wait for at least 10 seconds before repeating the command so that the dog learns to perform immediately after the first command. Don't repeat the command a third time! You don't want your command to be "Sitsitsit!"
By waiting patiently for at least 10 seconds, you're giving the dog the opportunity to think! Remember when you were first learning a foreign language? Did you remember all of those new words the first time out? In addition, please don't forget: humans are a verbal species and dogs are not!
Redirect
Canine Caveats
It's imperative to redirect before the behavior starts; otherwise, the dog learns "Eat the sofa and my humans play with me. Wahoo!"
Doggie Data
I prefer activities that the two of you can do together. Because classical conditioning (remember Ivan Pavlov?) is always happening, you might as well take advantage of it and pair yourself with all sorts of fun things for your dog. That way, you have a tired dog and a dog that associates good stuff with you. It's a win-win situation.
Redirect to better behavior. If your dog eats the sofa, learn what she usually does just before eating the sofa—sniffing the floor, running around, barking, or whining—and stop the sofa destruction before it happens.
You can distract her with a toy when she just starts to think about eating the sofa, but be sure that you don't then try to play with her after she has already started. This will only reinforce the sofa-eating behavior. You can still distract, but then give her at least three other behaviors to do and then reinforce her. Either put the dog in the crate or engage her in some stimulating activity.
Dogs who incessantly bark or chew are usually understimulated or bored or have been inadvertently reinforced (with your attention or bad timing of reinforcement) for doing the very behavior that's driving you crazy. Remember: behavior is reward driven!
Be sure to pay plenty of attention to your dog when she's not doing anything "bad"!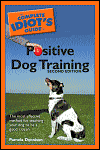 Excerpted from The Complete Idiot's Guide to Positive Dog Training © 2005 by Pamela Dennison. All rights reserved including the right of reproduction in whole or in part in any form. Used by arrangement with Alpha Books, a member of Penguin Group (USA) Inc.
To order this book visit the Idiot's Guide web site or call 1-800-253-6476.