Dog Training: Repeat, Redirect, Recreation, Restrain
Recreation
Use tiredness to your advantage: a dog who is fully exercised, both mentally and physically, is less likely to bark, chew, jump up, or otherwise drive you insane.
Giving the dog enough vigorous exercise with you is excellent preventive therapy! My motto is, "A tired dog is a good dog." A placid walk around the block is not enough aerobic exercise to physically tire out most dogs. Playing fetch, swimming, playing with another dog, jogging, and hiking are all good ways to keep your dog fit and to tire her out. This is the ultimate incompatible behavior: a sleeping dog can do no harm.
Restrain
Doggie Data
Patty was out with her dog Mike when they came upon a loose dog running around, growling at every dog in his path. There was no way of restraining the loose dog, so Patty quickly and calmly asked Mike to lie down (a calming signal). She kept Mike's attention on her, rather than risk his reacting to the errant dog. The instant Mike lay down, the approaching dog slowed his pace, sniffed Mike in a halfhearted fashion, and then went about his doggie way.
Confine or contain the dog. But be sensible! If imminent danger threatens, get your dog out of there!
If the dog is veering off into traffic, or a loose dog bent on rearranging you or your dog's face is in attack mode, get out of there. Although it's preferable to wait out a "bad" reaction from your dog so that you can then reinforce "good" behavior, there are times when a fast retreat is best. If the dog is so incredibly overaroused that she's foaming at the mouth, spit is flying everywhere, and her eyes are glazed, then oops! get her out of there—now!
There's time enough later, when everyone is calm, to assess the situation dispassionately and carefully. If the situation was something out of your control—such as a loose dog with no owner in sight—you can read Why Dogs Give Off Calming Signals, on familiarizing yourself with calming signals. Many times you can use these to "disarm" a dog who is showing aggressive behaviors.
Above all, think about what you're doing to encourage your dog to behave in a certain way. If your dog does something you don't like on a regular basis, watch yourself to see whether you're inadvertently reinforcing the dog for doing that very behavior!
For instance, if your dog repeatedly steals your clothes and then you chase after him in a merry game of keep-away, your dog thinks "What fun, Mommy! Thanks!" Do you yell at the dog? (Remember—negative attention is still attention.) Now he thinks, "Wow, Mom is turning purple and chasing me all over the house! Thanks, Mom!" Before getting angry, think to yourself, "What is the dog finding reinforcing?
You and your dog are a pair, a team, best friends, and a match made in heaven! So let's give the dog a break!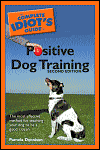 Excerpted from The Complete Idiot's Guide to Positive Dog Training © 2005 by Pamela Dennison. All rights reserved including the right of reproduction in whole or in part in any form. Used by arrangement with Alpha Books, a member of Penguin Group (USA) Inc.
To order this book visit the Idiot's Guide web site or call 1-800-253-6476.