The Premack Principle for Dogs
Muttley Meanings
The Premack Principle states that high-probability behavior reinforces low-probability behavior.
David Premack developed the Premack Principle. It puts forth "[t]he observation that high-probability behavior reinforces low-probability behavior." Essentially it means this: "Eat your vegetables and you can have dessert." To make this a bit easier to understand in terms of dog training, high-probability behaviors are what the dog wants; low-probability behaviors are what you want. In the following, you'll learn how to use this principle to get the behaviors you want from your dog.
Eating Your Vegetables First: What You Want
Canine Caveats
Be sure to pick only those things that you would want to use as reinforcers later. Sock stealing, paper eating, garbage raiding, poop eating, furniture rearranging or chewing, and general behaviors you don't want don't count and shouldn't be on this list.
So what do you want from your dog? Think about this—really think. It's not easy, is it? Write it down if you have to. Come up with some concrete things you want from your dog. If you don't do this, you won't, well, know what you want from your dog! And if you don't know what you want, how the heck is he supposed to know? I know dogs are very smart and may seem to be "almost human," but as of yet, I don't believe that dogs (or spouses or children) can really read your mind.
Do you want your dog to sit quietly at the door when the leash is being put on? How about calm behaviors when walking down the street? Perhaps bringing the ball and dropping it at your feet rather than 20 feet away? Wouldn't you like to be able to peacefully sit and watch TV or prepare his food dish and put it on the floor without being mauled? Maybe you'd like him to stop straining at the leash to get to his doggie pal so that he can play. You can get all of these things and more, by finding out what your dog wants—what floats his boat.
After you've thought it over, write down your goals—what you want from your dog. Now that you've written down what you want from your dog, it's time to figure out and write down what he wants.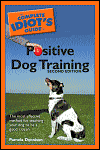 Excerpted from The Complete Idiot's Guide to Positive Dog Training © 2005 by Pamela Dennison. All rights reserved including the right of reproduction in whole or in part in any form. Used by arrangement with Alpha Books, a member of Penguin Group (USA) Inc.
To order this book visit the Idiot's Guide web site or call 1-800-253-6476.