The Premack Principle for Dogs
Hot Fudge Sundae: What Does Your Dog Want?
Pooch Pointers
Be creative and watch your dog. He'll tell you what he wants. It may change from day to day, hour to hour, and even minute to minute. And that's okay—it will give you more reinforcers to choose from.
How will you know what your dog wants? Watch him carefully and write down what he enjoys most. Don't think you'll remember it all without writing it down, because you won't. Humor me and write it down anyway. It'll come in handy later.
Your dog might like to sniff; roll in smelly things; sniff; chase toys; play tug; play with other dogs; sniff; go swimming; go for a car ride; go for a walk, jog, or run; play in an open field; sniff; chase ducks, deer, or geese; herd sheep; find small rodents; be petted or massaged; sniff; practice agility; cuddle with you; sniff; get belly rubs; retrieve objects; sniff; eat food; pee on bushes (hopefully yours and not the neighbor's); get attention from you; be groomed (my dogs like to be groomed); and last but not least, sniff.
At this time you should have two lists—one with what you want and one with what your dog wants. Now let's put them together.
Making Everyone's Dreams Come True
The great thing about Premack is that your dog will very often learn to enjoy "lima beans"—what you want, be it a stay, loose-leash walking, being touched or groomed. So not only will she learn to accept a bunch of new things, but if you make what she wants contingent upon doing what you want, you will see an increase of tolerance and an increase of appropriate behaviors.
Attention = Sheep Herding
Canine Caveats
If you "give in" to your dog for any of these things, then you're reinforcing the wrong behaviors. "Oh, but I drove all this way so that she could swim." Too bad, Bucko. If you're serious about wanting certain behaviors, then don't give in to the unacceptable behaviors you don't want.
Beau, one of my Border Collies, wanted to herd sheep. However, he thought I was irrelevant and was along only as a taxi driver. When herding sheep, it's important that the dog understand that he and his person are a team. He can't herd sheep without someone telling him what direction to go, and his person can't herd sheep without the dog doing his job.
Beau would drag me to the sheep pen. It was obvious by his inattentiveness to me that I didn't exist in his eyes. If I let him herd sheep anyway, he would ignore me and wouldn't take direction from me.
To teach him to focus on me, I insisted that he give me attention, heeling all the way from the car to the sheep pen. No attention meant no sheep. If he ignored me, I would tie him to a post and leave. If he made movements toward me, I would come back to him. If his eye contact then wavered, I would leave again. There was no punishment, no anger, no letting him herd sheep, and no hard feelings. I just patiently waited for his attention.
It took him four "sheepless" sheep lessons to understand that he had to focus on me if he wanted to herd sheep. Once he learned this lesson, he was attentive outside the pen as well as inside.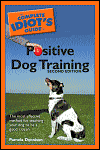 Excerpted from The Complete Idiot's Guide to Positive Dog Training © 2005 by Pamela Dennison. All rights reserved including the right of reproduction in whole or in part in any form. Used by arrangement with Alpha Books, a member of Penguin Group (USA) Inc.
To order this book visit the Idiot's Guide web site or call 1-800-253-6476.