The Premack Principle for Dogs
Does Your Dog Own You?
Doggie Data
Sue's Australian Cattle Dog, Barney, wanted "sniffing" as his full-time job, so she put him on a "pay attention to me or you don't get to sniff" program.
Sue insisted on eye contact from Barney from the instant he left the car—she gave him 30 seconds to respond. If he ignored her, back into the car he went. Once he made eye contact within 30 seconds, she lowered the time and repeated this until Barney was responding within three seconds.
Sue would ask for some heeling, a "Sit," or a "Down." Then as a reward, she allowed Barney to sniff for a minute. If he didn't respond, he was put back into the car. Pretty soon, Barney was quickly responding to all sorts of cues—and sniffing less!
You can make use of any of the things on your "what the dog wants" list to get what you want. Say you want to allow your dog to go swimming. You don't want her to drag you to the lake or pool. Make swimming dependent upon walking to the lake on a loose leash. No loose-leash walking, no swimming. If she doesn't walk nicely on the leash, just put her back in the car, wait for five to ten minutes, and try again. If, after three to four tries, she still hasn't noticed that you're alive, take her back home.
In the beginning, you may have to lower your criterion to start. For instance, you may realistically only be able to get two steps of loose-leash walking before racing to the lake. That's okay. You can build that to three steps, then four, and so on. Make those first approximations small, and you will see success.
Becoming a Master Manipulator
I am working with two Beagles. Now that breed has a natural tendency to have their noses on the ground 24/7. Why? Because we humans bred in that behavior. So instead of fighting their "Beagle-ness," we worked with it and exploited it. The first week, we asked (okay, we lured … and then asked) for about one minute of attention and then let them go be Beagles for about 10 minutes. Then we repeated the process and asked for two minutes of attention, and then 10 minutes of being a dog. By lesson number three, they were both glued to their owners for 15 to 20 minutes at a clip.
The moral? Work with your dog, not against her, and you will have the dog of your dreams.
Your dog wants to go out, but you don't want her to jump up and down like an idiot when you try to put on her collar and leash. Ignore her jumping, and patiently wait. Once she's sitting calmly, put the leash on. If at any time she starts jumping again, stand still and wait. If it takes 15 minutes, then so be it. She will very quickly learn that if she sits quietly, she'll get to go for a walk faster.
The key for Premacking anything is to know what your dog wants and then ask for what you want—be it calm behavior, eye contact, "Sits," "Downs," "Stays," or whatever it is you want from her at the time.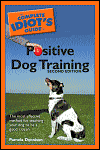 Excerpted from The Complete Idiot's Guide to Positive Dog Training © 2005 by Pamela Dennison. All rights reserved including the right of reproduction in whole or in part in any form. Used by arrangement with Alpha Books, a member of Penguin Group (USA) Inc.
To order this book visit the Idiot's Guide web site or call 1-800-253-6476.