Reinforcement Schedules and Variable Reinforcement for Dogs
Canine Caveats
Stick to a fixed-interval schedule and you'll get what's called scalloping. Say you're having the dog heel and you give her a treat every five seconds (because we humans are creatures of habit). The dog may, after taking the treat, go off and sniff, and then run back after three or four seconds to get her next "fix."
Doggie Data
Kathy fed her dogs exactly at 5 p.m., and they would whine and bark a few minutes before that time. To try to stop this obnoxious behavior, she went on a random schedule of feeding, changing the time each day. Unfortunately for Kathy, the dogs started to whine and bark all day because they never knew when they'd be fed.
This is a perfect example of how changing the time between reinforcers can increase the behaviors. I never said the behaviors would always be good ones! What actually happened was that Kathy was inadvertently reinforcing the whining and barking by continuing to feed the dogs in spite of the unwanted behavior, thus reinforcing the very thing she wanted to extinguish.
B.F. Skinner was the first to discover how variable reinforcement schedules can increase or decrease specific behaviors. Skinner came upon this marvel of observable fact when he was running out of rat pellets during experiments and the rats still performed behaviors, at a stable rate, for less food. Wahoo!
He called it "schedules of reinforcement," and it opened up a whole new area of study for him and others in behavioral psychology. The study of it spread to marine mammal trainers and then to dog trainers (and sometimes even to human trainers).
There are three different types of reinforcement schedules that can be used for training: continuous, fixed, and variable. Some are more effective than others in maintaining or advancing behaviors. Some actually kill behaviors.
Continuous Reinforcement
Continuous reinforcement was the original method that Skinner practiced, meaning that for every correct behavior, a treat was delivered. This schedule is great for teaching new behaviors.
You can see continuous schedules of reinforcement in your daily life. When you first learned to use a vending machine, it was very reinforcing to put your money in and get a prize. This encouraged you to do it again when you wanted something to eat or drink.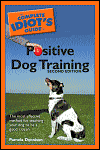 Excerpted from The Complete Idiot's Guide to Positive Dog Training © 2005 by Pamela Dennison. All rights reserved including the right of reproduction in whole or in part in any form. Used by arrangement with Alpha Books, a member of Penguin Group (USA) Inc.
To order this book visit the Idiot's Guide web site or call 1-800-253-6476.