Reinforcement Schedules and Variable Reinforcement for Dogs
Fixed Schedule of Reinforcement Slows Down Learning
There are two types of fixed schedules: fixed interval and fixed ratio. With a fixed-interval schedule, the food is fed at specific times, rather than for specific behaviors. If your dog does one "Sit" in a 20-second period, he gets one treat. If he doesn't sit, he doesn't get a treat. But even if he sits 100 times in 20 seconds, he still gets one treat. One interesting thing that happens is that the dog will pace himself by slowing down the rate of his behavior right after the reinforcer, and speed up again when the time for it gets close.
You call your dog from the backyard to no avail. You call at 10 a.m., you call at noon, and you call at 3 p.m. No doggie. However, at 5 p.m., you call your dog and he comes flying. Why? Because you always feed him his dinner at 5 p.m. He knows that no reinforcement is coming at those other times, so he doesn't come.
A different type of fixed schedule is the fixed-ratio schedule, which reinforces the dog after so many behaviors on a regular schedule. The dog sits 3, 6, or 20 times and always gets a cookie after the third, sixth, or twentieth time. The number of behaviors asked for remains the same between reinforcers in a fixed-ratio schedule.
Fixed-interval and fixed-ratio schedules can kill behaviors in dogs as well as humans. Fixed ratios are predictable, and predictability is boring, tedious, dreary, and mind numbing.
Okay, so you get the point on how predictability kills behavior. What's the answer? Variable reinforcement, of course!
Variable Reinforcement
Pooch Pointers
Because they're predictable, fixed-interval and fixed-ratio schedules can create boredom and dullness in your dog and an unwillingness to perform.
Muttley Meanings
Behavior extinction occurs when a behavior is not reinforced anymore and so the behavior stops.
Skinner also looked at two different types of variable reinforcement schedules: variable ratio and variable interval. A variable ratio means that you change the number of behaviors needed each time. First it takes 3 "Sits" to get a treat, then 10, then 1, then 7, and so on.
Variable interval means that you keep changing the time period between reinforcements—first 20 seconds, then 5, then 35, then 10, and so on. As a result, dogs no longer pace themselves, because they no can no longer establish a rhythm between behavior and reward.
Both variable ratio and variable interval keep dogs on their toes. But most important, these schedules are very resistant to behavior extinction. It makes sense if you think about it. In the dog's mind, if she hasn't gotten a reinforcer for a while, well, it just might come if she does just one more "Sit"!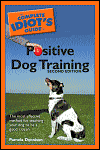 Excerpted from The Complete Idiot's Guide to Positive Dog Training © 2005 by Pamela Dennison. All rights reserved including the right of reproduction in whole or in part in any form. Used by arrangement with Alpha Books, a member of Penguin Group (USA) Inc.
To order this book visit the Idiot's Guide web site or call 1-800-253-6476.