Reinforcement Schedules and Variable Reinforcement for Dogs
When the Soda Machine Suddenly Becomes a Slot Machine
When you put money in a slot machine, you might not win very often, but you never know whether and when you'll win again. You also don't know how much you'll win—it could be 25 cents or $500. You just might win the very next time, and if you don't try one more time, you might possibly miss on the score of the century!
This is just the opposite of how a vending machine works. You put your money in and a soda comes out. So what happens if you put your money in and nothing comes out? There are a few options you might consider:
Canine Caveats
Before you bet 10 dollars that your dog will do any behavior you ask for, you need to move from continuous reinforcement (treating for every correct performance of the behavior) to a variable schedule of reinforcement. After the first 10 "Sits" or so, stop reinforcing for each one. Otherwise, your dog will sit only if you have a treat in your hand. Contrary to what you might think, giving your dog a treat every time doesn't make for strong and reliable behaviors.
Walk away

Put in more money and try one more time

Find a sledgehammer and beat it to death
Now, look at this from your dog's point of view. If you get stuck on a continuous reinforcement schedule and all of a sudden you try to be more variable, your dog's possible reactions could include the following:
Walk away

Try to sit again, just to make sure the cookie machine isn't broken

Bark, whine, or bite in frustration because the cookie machine isn't paying out
Variety: The Spice of Your Dog's Life
Canine Caveats
It's too easy to get stuck on using food as your only reinforcement type. Variable schedules and variable types of reinforcement require you to use creativity, imagination, and forethought.
Add reinforcement variety to variable reinforcement schedules (interval or ratio) and you're home free for life! Variable reinforcement with reinforcement variety is the strongest schedule for maintaining a behavior.
Variety is just that—variety of reinforcement type. The key is not to use the same old thing to reinforce the dog. Reinforcement variety not only makes strong behaviors, but it also helps enrich the dog's life. Here are some examples of reinforcers you can use:
Food: chicken, cheese, hot dogs, liverwurst, tortellini, steak, chickpeas, kidney beans, liver brownies, kibble, burnt leftovers that no one wants, vegetables, fruit; the list is endless.

Toys: tennis balls, Frisbees, tug toys, kongs (a kong is a hard rubber toy with a big hole in it for stuffing yummy treats); anything your dog likes to play with. (Exception: Don't use old shoes or socks as toys because the dog will get the idea that your new socks and shoes are also toys.)

Activities: swimming, car rides, walks in the woods, tag you're it, chasing you, jogging, hiking, grooming (some dogs do like being groomed), playing with other dogs.
"Life rewards": sniffing that pile of poop, rolling in smelly things, chasing squirrels (in a safe area, please!), peeing on bushes.

Other: praise, clapping, jumping up and down, cheering, petting gently, petting roughly, just hanging out together.
These are just a taste of the reinforcements you can use to reward your dog. Be creative and watch your dog to see what she likes.
You might think that applying life rewards, rather than giving the dog a piece of food, will slow down training. True, the session may take a bit longer, but in the long run, the behaviors trained will be learned faster, stay longer, and be stronger.
If you want to know why this strategy works, review the three laws of learning.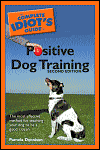 Excerpted from The Complete Idiot's Guide to Positive Dog Training © 2005 by Pamela Dennison. All rights reserved including the right of reproduction in whole or in part in any form. Used by arrangement with Alpha Books, a member of Penguin Group (USA) Inc.
To order this book visit the Idiot's Guide web site or call 1-800-253-6476.