Crate Training Basics
Pooch Pointers
You can do a few things to ensure that your dog comes home safe and sound if she ever gets lost:
Microchips: Most veterinarians can insert a small microchip in the shoulder-blade area. Most veterinarians, rescue groups, and shelters have a scanner and can scan the dog to get your contact information.
Tattoos: A tattoo goes on the inner thigh. Two registries keep information on tattooed dogs. Be aware, however, that many rescue organizations will not look for a tattoo, and they are harder to see on longhaired dogs.
Photos: Always have a current photo on hand in case you need to put up flyers.
Emergency info: When you are traveling with the dog, keep information in the car or your wallet in case you have an accident. Include contact numbers of friends who will take the dog, name of veterinarian, any medical information needed, and any behavioral issues the dog may have.
Doggie Data
When I was a groomer, two Huskies came in for grooming and were not crate trained. One of them was so frantic that she bent the metal bars on the crate door with her teeth and was throwing up bile and blood. Needless to say, I called the owner to come get the dogs, and I did not groom them.
Teaching your dog to love his crate is one of the best things you can do for your new best friend. Your dog will have to be crated many times in his life—for grooming, vet visits, or if he ever gets lost and is picked up by animal control.
Crate training is essential for younger dogs or rescue dogs to help them not to soil or eat the house. If you don't want your dog jumping in bed with you at 2 a.m. to get you to play, you'll need to put him in the crate. You can also crate your young pup when company comes until you can train him not to jump on visitors.
The Benefits of Crate Training
The benefits of crate training (to both you and the dog) are numerous:
Makes housetraining easier—be it house soiling or chewing.

Gives the dog a safe, secure place to "get away from it all."

Manages the dog when you are busy and can't pay attentionto her. This includes when visitors come, when you're leaving for work, when you're cooking dinner and the dog wants to play, and so on.

Helps you manage a multiple-dog household.

Enables your dog to cope with vet and groomer visits, where she will be crated.

Makes traveling with your dog easier, safer, and less stressful for both of you.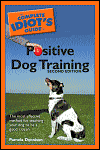 Excerpted from The Complete Idiot's Guide to Positive Dog Training © 2005 by Pamela Dennison. All rights reserved including the right of reproduction in whole or in part in any form. Used by arrangement with Alpha Books, a member of Penguin Group (USA) Inc.
To order this book visit the Idiot's Guide web site or call 1-800-253-6476.