Crate Training Basics
Crate-Training Instructions
Doggie Data
If you do your research well, you can find a breeder who actually crate trains all of the puppies before they leave the nest.
Break up crate training into several different sessions. Before you start the first session, have lots of treats on hand (my definition of "lots" is about three baggies filled with pea-size treats). Keep the door open and follow these steps:
Throw a handful of treats into the crate.

Stand back (so as not to pressure the dog) and let him go into the crate on his own.

Once he is done eating the treats, throw in more.
Pretty soon, the dog will just stay in the crate, waiting for you to throw in more treats. This usually takes about 10 to 15 minutes.
In the next session, throw in a few cookies to "review," and then wait for the dog to go into the crate on his own. Then throw in wads of cookies as a reward (as opposed to a bribe) for going into the crate. Then follow these steps:
Call him out of the crate and then look at the crate (don't say anything yet).

Once he goes back into the crate, reward him again heavily.

Repeat the preceding two steps five or six times.
In your third session, follow these steps:
Go over to the crate and look at it (still don't say anything).

When he goes back into the crate, reward him heavily.

Repeat this four or five times.

Then, as he is going into the crate (not before—pair the word with the behavior), say "Crate" or "Place" or whatever you want your word to be for telling the dog to go to his crate.

Reward heavily when he goes into his crate.

Repeat about five times.
Canine Caveats
You must keep this slow. If at any time the dog whines, you have gone on too long. If the dog whines or barks, you cannot let her out of the crate until she is quiet. If you let the dog out of the crate while she is whining, she will learn to whine in her crate—a mega no-no!
In your fourth session, repeat steps 2 and 4 from the preceding list. Then say the word "Crate" (or whatever) before he goes in, to see if he understands. If he goes into the crate, give him a mega jackpot of treats! Repeat this four to five times and then end the session.
At the fifth session, you'll start closing the door while the dog is comfortable going into his crate. Close the door for about five seconds, while he is still eating the last jackpot you gave him. Before he is done eating, open the door. Let him come out of the crate. Repeat a few times.
In later sessions, start gradually—and I mean gradually (a few extra seconds at a time; use a timer to keep you on track)—keeping the door closed for longer periods of time. You can even sit next to the crate while dropping food into it.
You can also use a special toy that he gets only while in his crate. I like Kong toys stuffed with nut butter or other gushy foods to keep them occupied. Continue to build up the duration that your dog can stay in the crate to at least a full minute before you start to leave the room.
Once you have mastered this, in future sessions, you can start leaving the room. Follow these steps:
Canine Caveats
Never, never use the crate as punishment. If your dog is being "bad," put him in his crate, but do it gently and unemotionally and give him a treat anyway. Putting him away after he has been "bad" teaches the dog nothing, but it keeps you from killing him!
Start by doing this for one second. Leave the room and instantly come back.

Reward the dog for being quiet and open the crate door.

Then leave for two seconds, then three, then four, and so on, always setting the dog up to not whine. Keep him busy with a frozen stuffed Kong (stuffed with gooey foods, such as peanut butter, cream cheese, and some treats) or a nice meaty raw bone.
You can also feed the dog his dinner in the crate, which will speed along his acclimation to it. Repeat all of the preceding steps until you can leave your dog in his crate for hours at a time. This will not take as long as it sounds. I crate trained one dog, whom the owner said couldn't be crate trained, in 45 minutes.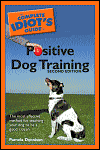 Excerpted from The Complete Idiot's Guide to Positive Dog Training © 2005 by Pamela Dennison. All rights reserved including the right of reproduction in whole or in part in any form. Used by arrangement with Alpha Books, a member of Penguin Group (USA) Inc.
To order this book visit the Idiot's Guide web site or call 1-800-253-6476.