Housebreaking Your Dog
Above all, know that housetraining is a human issue, not a dog issue. We are the ones who want and need the dog to use the outside latrine. They don't care at all. It is imperative to give the dog a great deal of access to the outside. If a dog is left alone in the house for long periods of time, she will have no choice but to eliminate inside.
Have patience with your dog. You wouldn't yell at your child for soiling his or her diaper, so don't yell at your dog. Yelling might make you feel better, but think what association you are creating: squatting around you is dangerous. Forget about "catching her in the act." Just ignore it and move on with your life.
Knowing When to Go
Doggie Data
Humans have opposable thumbs that can open doors. Dogs do not. Ergo, dogs cannot open doors. So you'll just have to get up and take the dog out!
So what is your option? Be smarter than she is! Note how soon after eating, sleeping, napping, playing, and drinking she usually "goes." If, for example, she messes five minutes after eating, then take her outside three minutes after eating.
Learn your dog's signs that she has to go. She is not some little kid who can cram his fists into his crotch, bend his knees, and look desperate. Common signs of "I gotta go!" are circling, whining, frantic look on her face, bent tail, hunched butt area, enlarged anus, and sniffing. If you are playing with her when you see any of these signs, then stop playing and take her out; otherwise, you're asking for a puddle.
You can also teach your dog to go to the door when she needs to eliminate. As you cross the threshold, say "Outside." Do this for a few weeks. Then when you think she has to go, ask her "Outside?" and she will probably go to the door.
Canine Caveats
There are some dogs who may lie—they will ring the bell to let you think they have to go outside, but they really don't need to go. A great way to handle this is to say, "I'll be right there, honey!" Then wait a few seconds. If the dog ends up doing something else, you know that he didn't really need to go. If he continues to hang out by the door, then you know that he wasn't lying.
I also find that some dogs like to ring a bell to let you know that they want to go out. For some reason I have yet to figure out, toy dogs will learn faster this way that the bathroom is outside.
Hang a bell on a string at nose level from the doorknob.

Put a tiny dab of peanut butter on the bell and encourage your dog to lick it (causing the bell to ring). Click and treat when they do and instantly say "Outside" and take the dog outside.

Repeat a bunch of times until the peanut butter is gone and they are still ringing the bell and you are still taking them outside.
Most dogs learn this within a few minutes—ring the bell = go outside.
Heavily reward the dog outside when she does her business and in the same spot where she went. Do not reinforce her after you're back in the house unless you want her to mess the house. When you can't be watching her, put her in a crate (my recommendation), in an exercise pen, or on an easily cleanable floor. If she does mess on carpeting, be sure to clean it instantly and thoroughly. Otherwise, that spot will forever smell like the bathroom to her.
If you can't seem to read your dog's signs, tether her to you with a six-foot leash. This will force you to pay closer attention to her, and you'll be able to get her out faster, with fewer accidents.
False Alarms and Accidents
There may be times when you take your dog out and she won't do her business. Then she comes back into the house and messes at your feet. Please don't get angry with her. That is just counterproductive. The next time you take her out, wait longer until she goes. If it takes 10 minutes, it takes 10 minutes. Bring a book, call your mother, or practice the multiplication tables in your head, but do not bring that dog back into the house until she is empty.
If after 15 minutes she still hasn't gone, put her in her crate, wait for 10 minutes, and try again. Continue to do this until she goes outside. Reward her heavily when she finally does go where you want her to go.
If she does mess the house, grab the nearest newspaper, roll it up, and hit yourself over the head while chanting, "I forgot to watch my dog, I forgot to watch my dog." If your dog laughs, praise her.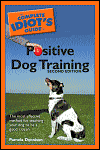 Excerpted from The Complete Idiot's Guide to Positive Dog Training © 2005 by Pamela Dennison. All rights reserved including the right of reproduction in whole or in part in any form. Used by arrangement with Alpha Books, a member of Penguin Group (USA) Inc.
To order this book visit the Idiot's Guide web site or call 1-800-253-6476.