Squabbles Between Dogs
Pooch Pointers
We humans have arguments all the time that mean nothing, and so do dogs. When we fight, we scream and yell, which is frightening to dogs because they're not humans and they don't understand what we're saying. Their noises and their big white teeth are scary to us because we're not dogs and we don't understand what they're saying, either.
Most squabbles are not serious. You may see teeth flashing and hear scary noises, and you may think that they're killing each other. Don't be alarmed—be calm. Watch them carefully and you'll most likely see that no contact is made, and even if contact is made, most of the time they leave only spit and no punctures.
The most important things you can do are the following:
Remain calm.

Don't yell or hit or say anything.

Split between them if you can.

Run out of the room fast! The dogs will see you running away (dogs are attracted to movement) and will most likely follow you to see where you're going.
Most "arguments" last only a few seconds, although it seems that they go on forever. Yelling or hitting will incite them to aggress for longer periods of time and with more intensity. Silence is the way to go until all is calm. Then, if you want to, you can go in the bathroom, shut the door, and scream all you like. The next time, just be more cognizant of what they're doing, so that you can stop conflicts before they escalate.
What Am I Doing Wrong?
Canine Caveats
When breaking up a dog fight, never grab them by the neck or collar—you're just asking to get bitten. If you're lucky enough to have another person with you, each of you should take hold of a dog's hind legs and tail simultaneously, and move a large distance away so that you can contain the dogs. If you're by yourself, take control of the dog who seems to have the upper hand.
If you see that their squabbles are increasing in duration and intensity, put both dogs in their crates and sit down and think:
Have I been punishing them for arguments? Punishment includes yelling and hitting.

Have I been giving them enough downtime and alone time?

Am I setting them up to fail by pushing them or forcing them to be pals?

Am I watching them carefully, stopping conflicts before they start?

Am I reinforcing all pro-social and friendly behaviors?

Am I assuming that the original dog has to be "top dog" because she's been here longer, and forcing the new dog into a role of subordinate?

Do the dogs view me as their own personal chew toy and are they guarding me, creating the fights?
Be sure that you aren't the cause of their fights or contributing to the intensity. If you really feel that you need to break them up physically, then walk up slowly (if you run in screaming, the fight may take a turn for the worse), grab both dogs by the back legs, and pull them apart as gently and calmly as you can. They will usually look back in surprise and then you'll be able to redirect them to a safer area.
Is Everybody Okay?
Once the dogs are separated and everyone is calm, check them over for any punctures. You can take care of most punctures yourself—just clean the wound, check it over the next day or two, and stop worrying. Even when dogs are playing, punctures can happen, so there's no need to freak out.
Continue to make sure that good things happen when they're together, ignore any squabbles, and heavily reinforce any pro-social, friendly behaviors, and your best friends will be buddies for life.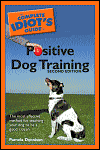 Excerpted from The Complete Idiot's Guide to Positive Dog Training © 2005 by Pamela Dennison. All rights reserved including the right of reproduction in whole or in part in any form. Used by arrangement with Alpha Books, a member of Penguin Group (USA) Inc.
To order this book visit the Idiot's Guide web site or call 1-800-253-6476.